Kampa Park Restaurant, Lesser Town, Prague 1, website
A quick look at the soup menu immediately tells you that the Kampa Park is a standard above the general level of restaurant. Customers can choose between pumpkin soup for 245czk or lobster bisque for 455czk. This is not a restaurant to get in and out of quickly; the Kampa Park is a high quality establishment where meals should be enjoyed over time.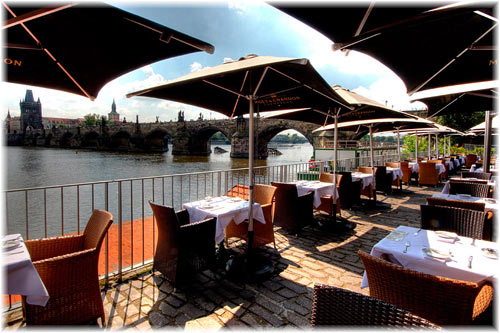 The Kampa Park is a place to spend all evening
This makes these meals perfect for a long luxurious evening on holiday, not for a night where you want to see as much as possible. Travelling provides people with a great opportunity to experience different cultures but there are also times when people need to relax and unwind. The Kampa Park restaurant provides the perfect setting for any traveller and is developing a fine reputation in Prague and abroad.
The Kampa Park restaurant has also managed to pick up some favourable reviews from travelling dignitaries with Hilary Clinton making very positive comments about the time she spent in the restaurant. This added exposure to the restaurant can mean it is busy at times so if you have a large party, it is recommended to book in advance.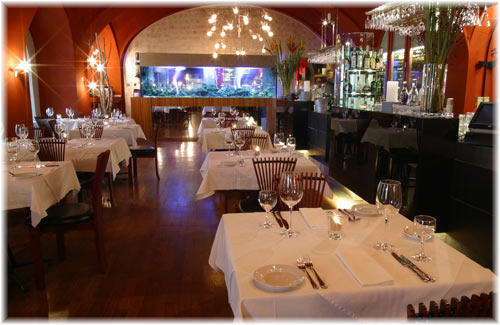 There is no finer wine selection
In addition to the fine quality of food, Kampa Park is well known for being well stocked for wine and the restaurant has over 150 global wines. This means that no matter what your palate prefers, there will be a wine to enjoy and savour. It is also true that certain wines go better with certain meals and if you are in any doubt, do not be afraid to ask the waiting staff for suggestions about which wine would go best with your meal.
In a city packed with great restaurants, the Kampa Park restaurant manages to stand out from the crowd due its great location, high quality food and extensive wine selection. If you want to make the most of your time in Prague, this is a restaurant to enjoy.