If you are confused about which club to visit during your short break for a good party time – Karlovy Lazne is the best bet.
Karlovy Lazne is a mega disco club right beside the Charles Bridge, next to the Club Lavka, situated in a historical bathhouse building originating from the 15th century. The bathhouse no longer serves its original purpose, and the whole house is occupied by this, the biggest club in the whole Czech Republic. Original mosaic tiles decorate the walls and floors in some areas of the building while preserving Roman-style spa pools serve as two of the dance floors – of course, there's no water.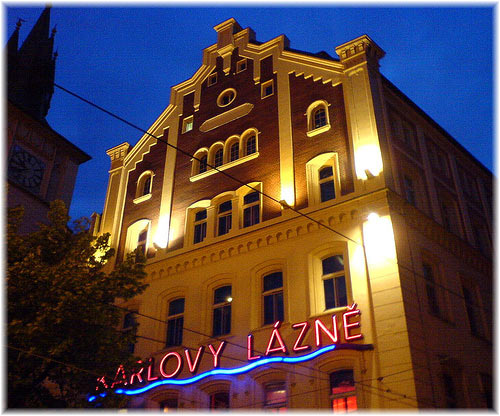 This club is an absolutely cool place, huge from all aspects and trendy amongst locals and tourists. The club caters to all races, from Czechs to Americans and Asians, to all ages from teenagers to grandpas, and from hard rock to dance to pop music lovers.
If you wish to save a few pennies and avoid long queues, come early and pay less for entrance. The club usually gets busy around midnight, especially on Friday or Saturday when these five clubs on five levels are bouncing. On some weekdays, especially off tourist season, the club might seem a bit empty.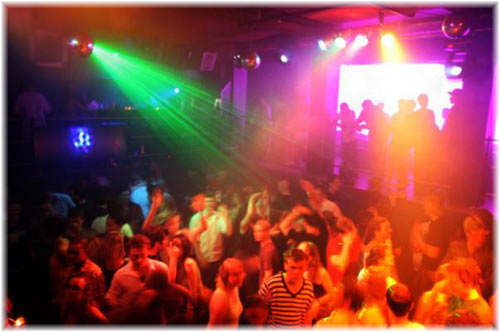 Zero level (MC Music Café) is a floor devoted to black music like R'n'B, soul or hip-hop but is strictly commercial, like the whole club. There is also an internet kiosk corner – free of charge.
The first floor (discothèque for lovers) is connected with the second floor and is a place of power dance. It will satisfy all lovers of disco music with news from the scene. That level is called Discotheque and is designed in a futuristic style.
The third floor (Kaleidoscope) is dedicated to fans of oldies – hits of the 70s, 80s or 90s. Sometimes it can be fun, but not if you don't like this kind of music – and there are only hits from the pop scene.
The fourth floor (Paradox Club) is the club level of the club. It is a zone offering techno, house, trance, acid… Many world-famous DJs and artists have performed here.
The fifth and last floor is a place known as a common chillout zone, playing a mellow selection of music and featuring cushions, rugs and soft lighting. It is the floor where you can rest and don't have to shout or move through the crowds.
Music genres: Dance, Disco, House, Trance & Techno
Admission: 21:00-22:00 50 CZK; 22:00-04:00 120 CZK; 04:00-05:00 50 CZK
Address: Novotneho Lavka 5, Old Town
Phone: +420 222 220 502
Website: www.karlovylazne.cz
Opening hours: Daily: 21:00-05:00
Luggage storeroom and cloakroom available.