When the Emperor Ferdinand I invited the Jesuits to Prague in 1556 to spearhead the Counter-Reformation, they moved into the former monastery of St. Clement. In the 17th century the Karolinum merged with the Klementinum and they undertook a building programme which lasted over 150 years. When the Jesuit Order was dissolved and the Jesuits had to leave Prague in 1773, the Clementinum complex was taken over by Prague University and the National Library. It is the largest complex of buildings in Prague, after Prague castle, including the Church of St. Clemens and the Church of St. Salvator. The walls of the Baroque fortress enclosed a college, schools, churches, a library, a theatre, an observatory and a printing shop. Concerts are often held in the Mirror Chapel (1724-30)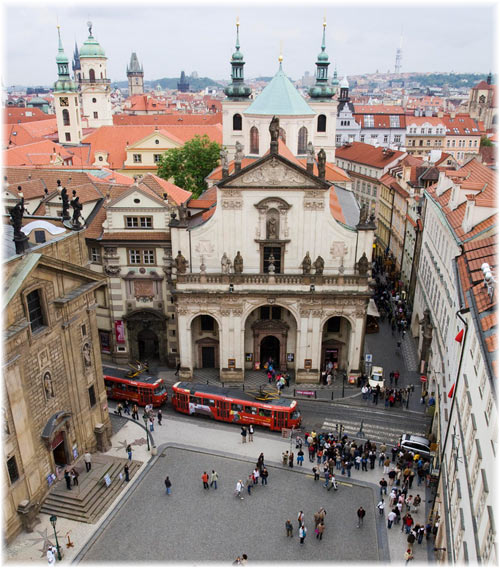 Guided Tour of Klementinum
Tour of Clementinum includes the Baroque Library (Baroque Hall), Astronomical Tower, Meridian Hall and Chapel of Mirrors. You will have an extraordinary opportunity to enjoy the most beautiful view of Prague old town and other nice sights from the gallery on the top of the Astronomical Tower.
Mirror chapel
The chapel consecrated to the Annunciation of our Lady was built after 1720. Its harmonious decoration – where the marbled walls and floors are well-matched with its gilded stucco ornamentation, with parget colours and ceiling frescoes, with the final touch of a mirror-decorated ceiling – make it a unique sight. The fresco was created by Jan Hiebl, each of the ceiling bands illustrates a verse of the Hail Mary prayer. The mural paintings with themes from the life of Virgin Mary were created by Vaclav Vavrinec Reiner. The Mirror Chapel is the only historic building of Klementinum open to public every day during the concerts held there.
Baroque Library Hall
The Baroque library hall was finished in 1722. Its appearance and arrangement – for example the labels on library bookcases – survive intact. Thus it provides us with an example of the setting of an authentic Baroque library. The books in this hall constitute a collection of printed theological literature written in all languages except Czech, gathered as they were arriving at the Klementinum from 1600 until recent times. The books with whitened backs and red marks have been here all along since the Jesuit period. The ceiling decoration, created by Jan Hiebl, symbolizes the antique wisdom and learning as the basis which leads to Biblical prophets and later to Christian teachings.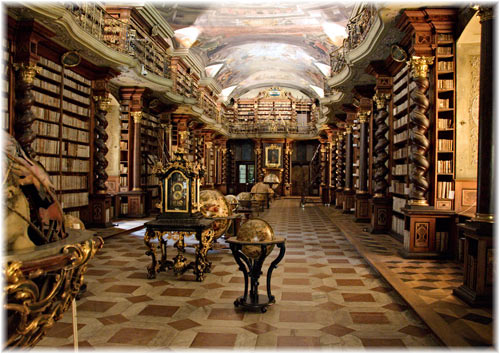 Astronomical Tower
The Astronomical Tower was erected together with the completion of the Baroque library and of the Mirror Chapel, all of this undertaken under the direction of the universitys chancellor Frantisek Retz. The tower is crowned with a statue of an Atlant holding the celestial sphere on his shoulders. Some historians attribute this sculpture to the atelier of Matyas Braun. The tower was used for astronomical observation till the 1930s. In 1938 the astronomers moved out of Prague to a new observatory in Ondrejov. (read more)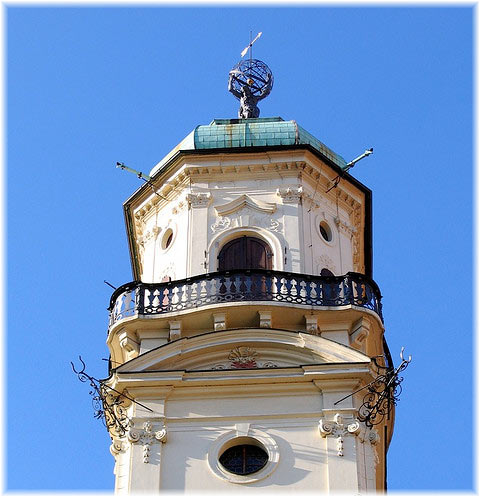 Location: Klementinum 190 (entrance at Křížovnická 2, Mariánské náměstí 5)
Open: daily 10 a.m. — 4 p.m., every hour (January – March); daily 10 a.m. — 8 p.m., every 30 minutes (April – October); daily 10 a.m. — 6 p.m., every 30 minutes (November, December)
Admission: 220 CZK, 25% discount with Prague Card