Records mentioning the royal castle Krivoklat were first recorded around 1100 A.D., though today's building dates from the late 13th century. It was enlarged and fortified at the end of the 14th century; thanks to all these renovations and continual rebuilding, the castle shows all phases of the Gothic style. Castle is considered unique from an architectonic point of view and similar to the French castle conception. Castle was once the royal hunting lodge of Charles IV. Inside, you can see vaulted King's Hall, a Gothic chapel with a finely carved altarpiece, a dungeon once used as a prison and now home to a grim assortment of torture instruments, and the Knights' Hall, a collection of late Gothic paintings and many sculptures. Krivoklat is located about 40 km to 50 km west of Prague, and with 250,000 visitors a year, it is the second most visited castle in the Czech Republic. One of the best things about a trip to Křivoklát is the surrounding countryside, with numerous trails perfect for hiking, biking, and leisurely strolls.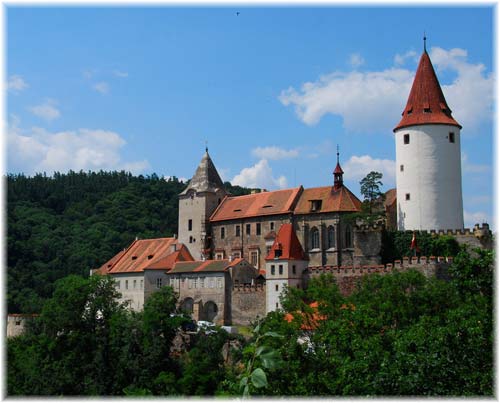 Opening Hours

March, November, December: Sa + Su 9 a.m. – 12 a.m., 1 p.m. – 3 p.m.
April, October: Tu – Su 9 a.m. – 12. a.m., 1 p.m. – 3 p.m.
May, September: Tu – Su 9 a.m. – 12. a.m., 1. p.m. – 4 p.m.
June – August:  Tu – Su 9 a.m. – 12. a.m., 1. p.m. – 5 p.m.
January and February: for booked groups of 10 people or more only. 
Getting There

From Prague central station (Hlavni nadrazi), take a train direction to Tabor, at the Benesov u Prahy stop. From the station, there are 15 minutes walk to arrive at the castle. Or by bus, from Bus station Florenc. By car, follow the Prague-Brno motorway, take the Mirosovice exit (Exit 21), and then follow the tourist indications. Or book an excursion online.