If you want a taste of Havana nights, then try out La Bodeguita del Medio as it brings Cuba to Prague. Designed to look like Hold Havana, this restaurant is located close to Old Town Square.  It actually shares a name with the restaurant in Havana, which was a favourite of Ernest Hemingway and the Mojito cocktail home.
When in the restaurant, you will have the option of several different seating areas that have a character, each to their own.  The furniture and artefacts help to create a warm and comfortable environment.  Much of the wood is dark, and the signage on the walls comes from Cuba or other exotic spots worldwide.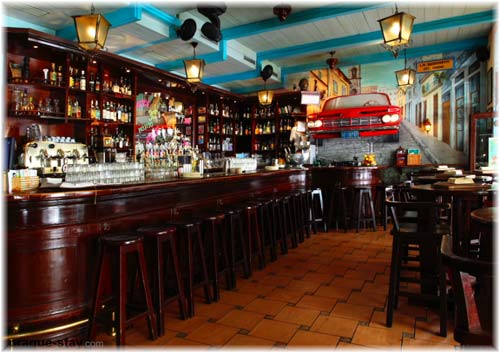 The menu has something for everyone.  There are tapas, juicy steaks, duck, lamb and a great range of fish other seafood, including shrimp, mussels and sea bass.  Even a seafood platter contains a little bit of everything if you can't make up your mind on what to order.  The food is delicious and includes traditional South American and Creole flavours prepared by chefs with a Cuban background.
If you want some wine to go with your meal, you will not be disappointed as there are choices from the Mediterranean, South America and the Czech Republic.  However, being a Cuban restaurant, their best and most popular drinks are freshly prepared Caribbean cocktails.  In all, you will have over 150 choices to pick from.
Either before or after dinner, stop by the popular bar located at the front of the restaurant.  There is also a cigar club upstairs which is the first of its kind in the Czech Republic.  It sells the ever-popular Cuban cigar as well as humidifiers which come all the way from Columbia.
The restaurant also comes with plenty of atmospheres as there is Latin music playing in the background during the day and early evening.  Later on, expect live Cuban music on most nights as well as Latin American dancers.
If you are coming with a family, then there is a separate play area for children, which is open daily between 9:00 am and 5:00 pm.  There is even a clown who comes in for a few hours each Sunday afternoon.
Most of the crowd at La Bodeguita del Medio is a great place complete with an international crown, and the place has a festival feel just about every night of the week.
Address:  Kaprova 5, Old Town, Prague 1; website