Lavka club is situated right on the banks of the River Vltava, next to Charles Bridge and very near Karlovy Lazne club, with incredible views up to Prague Castle. Mainly because of the location, the club attracts a lively tourist-heavy crowd as well as locals. It is also a very popular place for Prague stag and hen parties.
Lavka club plays mostly party music, everything from the 60s to today's best dance tunes. The club is a good choice for a night out, a nice place for a drink and a dance – and you might even get your dinner there if you are not too late. It is a modern club, and definitely not very cheap, especially for locals, but well worth the extra penny spent. It has two different levels: the upstairs is more of a place to sit and relax, and the downstairs is for dancing. There are also beautiful dancers/strippers on the podium in the club if you wish to join the crowd of admirers.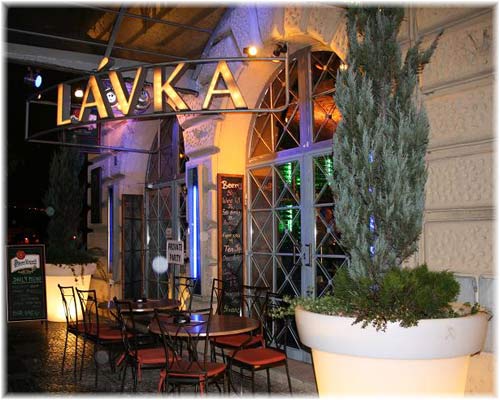 In the summer months, there is an open riverside terrace if you wish to have a nice drink and even food while enjoying great views over the water and listing to the music.
Opening hours: non-stop; Admission: usually after 21:00, you must pay 100 CZK
Music genres: 80s/90s and recent pop music
People: from teenagers to 40s
Dress code: just casual, mostly everything is considered OK
Location: Novotneho Lavka 1, Old Town (close to the Charles Bridge); Website: www.lavka.cz