Lying below the castle and reaching across to the banks of the Vltava is Lesser Town (Malá Strana). It is certainly no less of a beautiful town; it is called Lesser Town because traditionally, it was the smaller half of Prague, the half in which the king lived, and a half away from the bustle of the markets on the other side. Today Lesser Town is a maze of narrow cobbled-stoned streets, winding their way between historical monuments – including beautiful Renaissance and Baroque St. Nicholas church. Happy hours can be spent strolling among the multitude of cafés, restaurants, shops and quaint, tiny cottages, crumbling with age.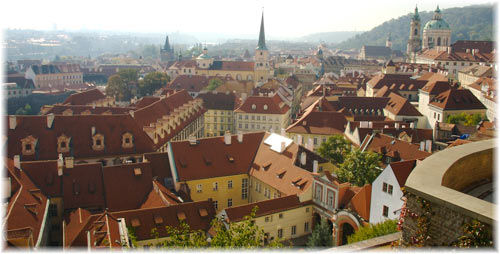 Towering over the whole town is the Prague Castle complex, which is accessible from below by a steep and long stairway that provides a great view of the whole town. This part of town is very visitor-orientated. People generally stick to the main walkway leading from the Charles Bridge, past the typical McDonald's and souvenir shops and up to the Prague castle. The more curious traveller might detour off some side street and find the unexpected.
Despite the tourists, many Czechs still live and work in this area, and it is not difficult to find a good restaurant or pub with moderate prices, so do not hesitate to wander around. 
Places of interests located in the Lesser Town:

– Charles Bridge (Karluv most)* situated between Old Town and Lesser Town
– Nerudova Street (Nerudova ulice)
– Lesser Town Square (Malostranske namesti)
– St Nicholas Church (Kostel sv. Mikulase)
– Wallenstein Palace (Valdstejnsky palac)
– Church of st Thomas (Kostel sv. Tomase)
– Vrtba Garden (Vrtbovska zahrada)
– Church of Our Lady Victorious (Chram Panny Marie Vítzne)
– Maltese Square (Maltezske namesti)
– Kampa Island (Kampa)
– Vojan Park (Vojanovy sady)
– Petrin Hill (Petrin)