The town of Litomyšl began as a fortified settlement to protect a trade route linking Bohemia and Moravia. Dominating the town is a Renaissance stately home decorated with over 8,000 original sgraffito. The building's unique architecture led to its entry to listing on the UNESCO World Heritage list in 1999. There is also a 200-year old baroque theatre with original scenery. Litomyšl is the native town of the Czech composer Bedřich Smetana. His apartment in the château is now a museum, and music festivals take place in his honour throughout the summer. On the main square, you will find a Gothic town hall and several Renaissance and Baroque buildings of which the most significant is the 16th century Knights' House (Dům U Rytířů), which currently houses an art gallery. Other places of interest include a unique museum called the Portmoneum with wall paintings and furniture carved by Czech artist Josef Váchal.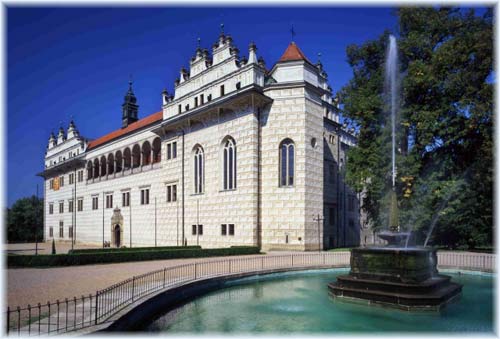 Litomysl Château – The château was built between 1568 and 1581. Its exterior is decorated with eye-catching sgraffito by Šimon Vlach, and the private theatre is one of the oldest in Europe.
Stately home – built in the Renaissance style, richly decorated with sgraffito by Italian masters in the 16th century during the time of Lord Vratislav of Pernštejn. Its halls contain collections of Empire furniture, 18th-century paintings and Meissen, Viennese and Berlin porcelain.
Red Tower – remnants of the Gothic fortifications of the New or Upper Town, probably from the end of the 15th century. From the tower, there is a view of the arcades of the Cloister Gardens. The tower houses the Museum of Restoration and Historical Technologies.
Cloister Gardens with statues made by Olbram Zoubek.
Knights' House (Dům U Rytířů) – built in the 16th century. It has an impressive facade with figural decorations. A Renaissance coffered ceiling and other original architectural elements have been preserved inside the building.
Portmoneum – a private museum with unique wall paintings and carved furniture, the work of graphic artist, writer and mystic Josef Váchal.
Litomyšl Regional Museum – founded at the end of the 19′ century, housed in the former Piarist Gymnasium. Extensive collections in the fields of ethnography, numismatics and creative arts, and an archive concerning prominent people con¬nected with Litomyšl.
Birthplace of Bedřich Smetana – in the former brewery connected to the stately home. In 1996, the interior was renovated to recall the time of Smetanaš childhood.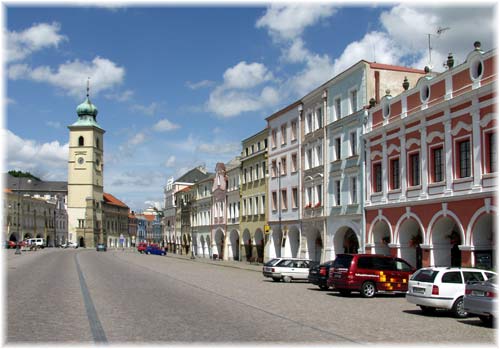 Tourist Information Centre: Smetanovo nám. 72 570 01 Litomyšl, tel.: +420-461 612 161
Château: May–Aug Tue–Sun 8-12,1-5; Sep 9-12, 1-4; Apr, Oct Sat–Sun 9-12, 1-4 Jun–Jul: Smetana's Litomyšl (opera festival)