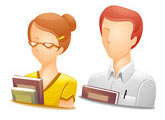 The effects of the worldwide economic recession have caused changes in employment. It isn't as easy today to find teaching jobs as it was years ago. Prague still has a large need for English language teachers. These jobs and other employment opportunities are available here. Although online classified ads are good sources for these jobs, you will need to do more. Creativity and flexibility are essential when it comes to locating teaching jobs in Prague.
Here are some of the most useful tips to find a teaching job.
Teaching and Consulting
Everyone has a list of skills, experiences, and talents. All of these can work to provide you with job opportunities. Making a list of each of these areas and your assets will be helpful. You may be qualified to teach or consult on a host of topics. Companies and businesses around Prague may find your skills valuable. Those who speak various languages are assets in themselves. There are possibilities for each language that you speak. With Prague's growing population, there are always tourists and ex-pats coming and going. These are people who may require your skill sets.
Teach Privately
Private English teachers are other popular positions to consider in Prague. There are various ways to find employers who want a private English teacher. In some cases, word of mouth advertisements is useful. Using the internet to post private English lessons is another way to find this type of work. There are Czech companies that are searching for qualified teachers for their employees. Their goal is to build English communication skills through private lessons.
Online Tutoring
Those who have strong backgrounds in academics have access to opportunities through the internet. Tutoring is one option for finding teaching work. Websites like tutor.com, smarthinking.com, and sylvanlearning.com are great resources. These sites offer applications for tutoring children online. It is important to note that these jobs will be based on US time zones. Other jobs in this field include proofreading and editing work.
Salaries for Teaching English
There are different categories when it comes to this field. These jobs range from teachers at state schools, universities, and the private sector. Teachers in the private sector can expect payment per the amount of time they teach. A 45 minute session can earn you anywhere from 150-250 CZK. Those teachers employed at private schools can earn up to 400 CZK in this time period. Freelancers may ask for as much as 500 CZK. It is necessary to have a business license to work as a freelancer in Prague. Teachers at universities can earn as much as 30,000 CZK per month.
Some companies that hire these teachers pay more when the work is outside of Prague. They pay for accommodations which is a great benefit. In some cases, these accommodations are company flats or apportioned rent payments.