Malý Buddha, Úvoz 46, Hradcany
Located in Hradcany, Malý Buddha (Little Buddha) an Asia teahouse is a delightful exotic secret. You step in and see the candle light, hear the soft music, then you notice the Rattan furniture, the shrine to Buddha, hanging lanterns, and you forget you are in Prague. You think you have been transported to Asia. Malý Buddha, Úvoz 46, Hradcany Prague, is a down-to-earth hide away near Prague Castle. Little Buddha is just across the Questenberg hotel, which looks like church; however, it used to be a hospital. The house where you will find the Malý Buddha has an interesting history: the walls date from gothic, Romanesque, baroque, and renaissance times.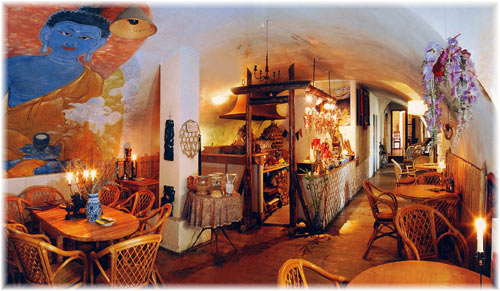 Malý Buddha is a teahouse run by a Buddhist who lived for a couple years in a Shaolin monastery. You can have your choice of several dozens of teas to go with delicious spring rolls and noodle dishes. Although a teahouse and not a full service restaurant, you will not leave hungry. The laid-back owner offers generous servings of vegetarian specialties, fish, shark steaks and vegetable and mixed stir fry dishes. The menu is a mix of Vietnamese, Thai, and Chinese dishes. The drink menu is unusual, listing herbal drinks, ginseng wine, Chinese rose liqueur, and unknown shots of exotic intoxicating mixtures. The deserts do not last for long.
The teahouse is a no-smoking establishment which is uncommon in Prague, thus the hints of delicious food are untainted; and if you like the decorations, you can buy much of what you see. You may be surprised to find the prices are reasonable. Malý Buddha is a perfect place to stop when exploring Prague Castle and its neighborhood. The professional welcoming staff will make you feel at home. This is anideal escape from Prague, right in your backyard.
Credit cards are not accepted.