The Martinický palace (Martinic Palace) on the Hradčanské square, newly opened to the public, offers the chance to view its interiors, rent its rooms for various events, or attend some events organised here. The Martinický palace is one of the most beautiful Renaissance buildings in Prague.
There are guided tours that provide a commentary on this exceptionally well-preserved example of European art and Renaissance housing taking place here. There are original sgraffito paintings with motifs from the Old Testament and late Renaissance painted girder ceilings and wall fresco paintings. The interior includes a typical dining room, study room and bedroom. Thus, visitors can imagine what life looked like back in the Renaissance era (see how the rich people lived 500 years ago).
In the Martinický palace stable, there is a Museum of historical automatic music machines, mechanical gramophones and phonographs from 1870-1940; any of the exhibited machines can be shown in action.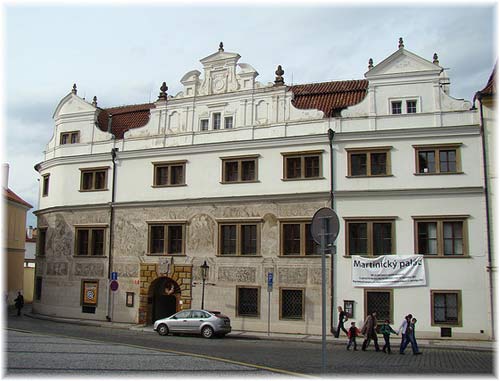 Second Prague defenestration
The new owner started to rebuild and enlarge the palace, but the work was discontinued because of dramatic events in 1618; Czech Protestant noblemen rebelled against Emperor Matthias, who had violated their religious freedom. Noblemen came to the Prague Castle to the office of imperial vice-regents. Jaroslav Borita of Martinic, owner of the palace, was a vice-regent at the time. The angry noblemen threw the vice-regents and their clerk out of the window. This event is known as "the second Prague defenestration", and it started the Thirty Years' War.
Surprisingly, the vice-regents were not injured, but they had to run away from the country for some time. The Martinic Palace was finished in early-Baroque style later.
Replica of the Royal Palace
The frontage is decorated with symbols of the Martinic family – a water lily and a star. The palace was built as a half-sized replica of the Royal Palace at Prague Castle because Count Martinic wanted a palace symbolizing his political power.
Renaissance decoration
The Martinic Palace is decorated with various figural sgraffito, depicting scenes from the lives of Joseph in Egypt, King David and Hercules. There are well-preserved Renaissance-style beamed ceilings inside the palace, painted with allegorical pictures and have many sayings written on them. Many fresco paintings adorn the Martinic Palace, for example, the larger than life-sized figures of Adam and Eve, painted according to the artwork by A. Dürer. The Martinic family died out in 1788, and the new owner of the building left most of the rooms for rent. Around 70 families lived there, and various workrooms were made there as well. The palace was badly devastated at the beginning of the 20th century but was finally restored in the 1960s.

Location: Hradčanské náměstí 67/8, Prague Castle; More info: website.
Opening hours: Monday – Sunday 10 AM – 6 PM
Admission: in the palace or the museum: 100 CZK, 33% discount with Prague Card