Mecca Club was founded in 1998 and very quickly gained a reputation as one of the Prague's best clubs, as well as being popular for various cultural and social events. It is a fashionable club, not situated in the city centre, but that fact does not make it less attractive; always expect crowds who are ready to dance like pros.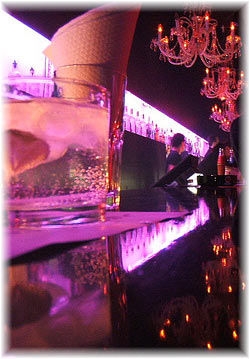 Prague Mecca has two levels: the upper one is occupied by a café bar and a restaurant which specialises in seafood. There is also a very large aquarium and the upper part is thoughtfully decorated with modern arts – some sculptures, a few paintings and so on.
Mecca's main focus is on parties (especially House Parties) where many world-renowned DJs play. The club main room is large, black and illuminated by various lights. The place is dominated by a massive bar and equipped with solid music installations to provide good sounds for its visitors. The club is popular amongst Czechs and foreigners, who all come from a kind of 'higher class society'. Though there's no dress code, it is an upscale club so people who come here keep up with fashion.
Lots of the world's VIPs, singers and other stars come to Mecca when on their vacation; also the cream of house music society associate themselves with the club. Prices are quite high, at least by Czech standards. Entrance fees range from 200 CZK (for a regular party), up to 1200 CZK when famous international DJs might be playing. 
Location: U Pruhonu 3, Prague 7
Opens: Mon – Thu 11:00-22:00; Fri 11:00-06:00; Sat 12:00-06:00
Website: www.mecca.cz