Prague is a city with a proud history and if you would like to learn more about the cities past, visiting one of the old fashion taverns can provide a great deal of knowledge. If you are interested in the history of Prague from medieval times, the Medieval Tavern Anno Domini 1471 will transport you and your party back to a simpler time.
For 990 CZK, a person will enjoy a 6-course banquet and unlimited drinks during the 3-hour extravaganza. The show will be worth watching from start to finish but so will the meal, which starts with soup as the opening dish and ends with a range of desserts. As you enjoy your meal, the staff, dressed in medieval costumes, will attend to your needs serving goblets of wine and traditional food.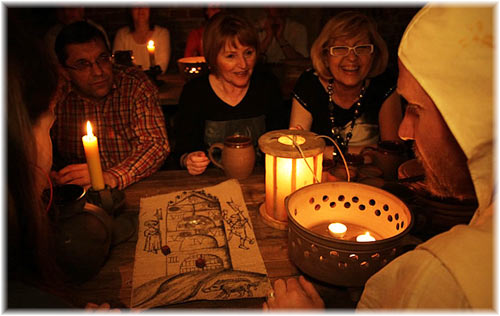 Great Range of Meat Dishes to Choose From
The main meals are authentic to 1471 but sound appetising to even the fussiest of eaters. With fire-roasted chickens, dough coated venison meatloaf, ham, duck and even fallow-buck leg, the range of food on offer should be more than suitable for everyone. There are also plenty of great drinks to choose from with strong lager (13%), wine, brandy, mead and soft drinks available to choose from.
Hire the Tavern for All of Your Friends
If you have a large enough party, it is possible to hire the Medieval Tavern for yourself, ensuring that all of the fun and frolics of the night are based upon your group. This can be a fantastic way to enjoy the entertainment but smaller tables and areas can be booked for groups of all sizes. This means that everyone should enjoy the sights and sounds of the medieval entertainment provided by the restaurant.
As well as the great food, there will be fiddlers, dancers, card-shapers, jesters, fortune tellers and even a barroom skirmish before the end of the evening, giving everyone a taste of what life was like back in the days of the medieval tavern. If you want to experience a night of great dining, non-stop entertainment and historical re-enactment, this is definitely the place to see and visit. Just be sure to spend some time dancing and singing along with the band to make sure you get the very most from your time in the Medieval Tavern.