Allegro

If you can afford to hang with expense-account types and the glitterati, then, by all means, reserve a table here. There's a sense of care you don't find in many Prague restaurants, expressed in magnificent foie gras, overwhelming ravioli and the city's best tuna tartare. Unparalleled views of Prague Castle from the patio.
Address: Veleslavínova, Prague 1–Old Town (inside the Four Seasons), website
Tel.: 221 427 000
Open daily 6:30 a.m.-11:30 p.m.
Rated: Expensive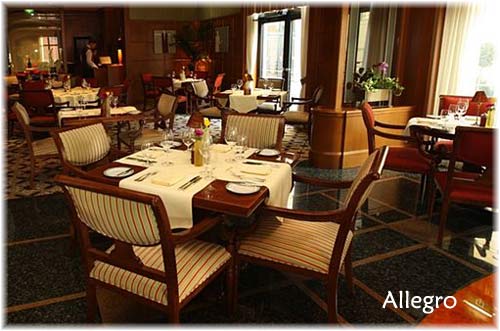 Aromi
Nestled on a quiet residential intersection, the ambience of worn cobblestones and faded housing builds on a sense of hominess. If that's not enough, the restaurant also features sharp service and Italian classics based on fresh, seasonal ingredients when possible. Aromi understands the beauty of simple flavours and traditional technique. They also offer a daily lunch special, which is just 200 CZK per person.
Address: Mánesova 78, Prague 2–Vinohrady, webiste
Tel.: 222 713 222
Open Sun.–Thurs. noon-10 p.m., Fri.–Sat. noon-11 p.m.
Rated: Expensive
Divinis
Authenticity and a beautiful list of Italian wines make this a recommended Old Town spot. The space is airy and comfortable, the tourist bustle just a short walk away, yet it almost feels like a hideaway. The menu is small but enticing: pasta, gnocchi, Tuscan beef and the like. Mostly, it's a neat spot for good wine.
Address: Týnsá 23, Prague 1–Old Town, website
Tel.: 224 808 318
Open Mon.–Sat. 4 p.m.-2 a.m.
Rated: Moderate
Olympos
Popular for being popular rather than for its Greek cooking, which hovers below mediocre on hurried evenings. Yet mediocrity puts it in Prague's upper half, as far as restaurants go, and the garden … now, that's a reason to drop by for a visit. It's big, open and casual—full of neighbourhood pets and boisterous diners. There's even a play area for kids.
Address: Kubelíkova 9, Prague 3–Žižkov, website
Tel.: 222 722 239
Open daily 11:30 a.m.–midnight
Rated: Moderate
Kavalla
Comfortable, relaxed and just downright enjoyable. Some even rate this Dejvice tavern as the best Greek restaurant in the entire city. Food sticks to the traditional, such as moussaka and skewered meats and perhaps a few things you've never tried. There is also a selection of Greek wines.
Address: Charlese de Gaulla 5, Prague 6–Dejvice, website
Tel.: 603 516 840
Open daily 11:30 a.m.-10:30 p.m.
Rated: Moderate
Pizzeria Di Carlo
Okay, so it's not the absolute best pizza in the city. It's pretty good, though, and reasonably priced. It also serves fresh pasta that is better than what it charges for the stuff. Best of all is the laid-back atmosphere and narrow but picturesque courtyard, mimicking a rustic village setting in Italy.
Address: Karlovo nám. 30 Prague 2–New Town
Tel.: 222 231 374
Open Mon.–Fri. 11 a.m.-10:30 p.m., Sat.–Sun. 11:30 a.m.-10:30 p.m.
Rated: Inexpensive
Roca
Pasta, pizza, gnocchi and more, all at affordable prices and within walking distance of the tail. This subterranean trattoria is dressed like a celebration of all things Italy. Dishes meet expectations for a decent, midlevel restaurant: simple flavours based on good ingredients. When Roca says buffalo mozzarella, it means it.

Address: Vinohradská 32, Prague 2–Vinohrady
Tel.: 222 520 060
Open daily 9 a.m.-11 p.m.
Rated: Moderate