Visitors to Melnik may wonder what all the hype is about. The surrounding region is largely industrial, and the town's historical centre is small. However, an afternoon at the Melnik Chateau – with its Renaissance interiors and wine cellar – is worth the effort of travel alone. The town lies at the intersection of the Labe and Vltava rivers, in one of the country's most important agricultural regions. Although most vineyards are located in Moravia, Melnik is the wine-producing capital of Bohemia. Production has taken place there for centuries, and each autumn, the town hosts a special festival to honour the tradition.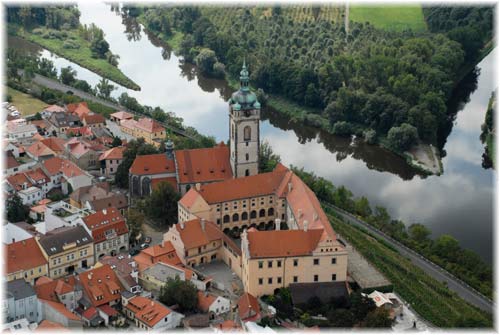 Situated approximately 30 km north of Prague, it is not as known for the architecture or history, but it can be described as quaint, picturesque, and serene. Perched on a hilltop, with commanding views across the confluence of the Vltava and Labe (Elbe) rivers, is the cháteau, Mělník's main tourist attraction.
Founded in the 10th century, it originally belonged to the Bohemian royal family. It was occupied by several queens, including the wives of John of Luxembourg and Charles IV, who is credited with introducing wine-making to the region. The castle passed into the hands of the Lobkowicz family early in the 17th century, and they have owned it intermittently ever since. Mainly of baroque appearance, its northern wing has an impressive Renaissance arcade and loggia with sgraffito decoration, dating from 1555. The rooms have been refurbished in various styles; the most interesting is the Large Bedroom, which contains an early 17th-century canopied bed with a painting of the Madonna at the head. Visitors are also shown trophies and mementoes belonging to one of the château's more recent owners, Jill Christian Lobkowicz, a talented racing driver who died tragically on a track in Berlin in 1932. There is a separate entrance charge for a tour of the 13th-century wine cellars, with tastings.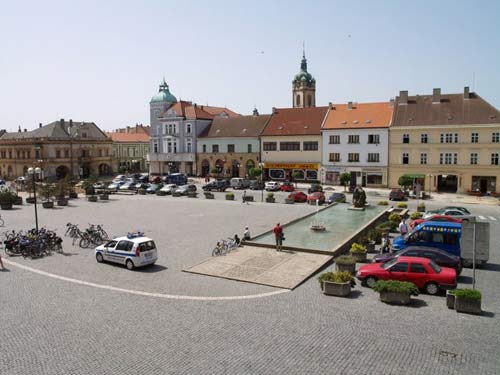 Mělník's grapes are of the Traminer and Riesling varieties. You can also tour the Church of St Peter and Paul, built between 1480 and 1520. Its nave is roofed with splendid network and star vaulting and decorated with Renaissance and Baroque paintings, including work by Karel Skřeta. The 'pewter' font is actually made of wood. The main draw here is the crypt with its fascinating charnel house, stacked from floor to ceiling with orderly rows of heaped bones — some 15,000 of them at the last count. Some of the skulls are fractured or dented — the result of bullet wounds sustained in the Thirty Years' War battles. 
Tourist Information Centre: Mirů Square t. 315 627 503; chateau: 315 622 121
Château: May, Jun, Sep Tue-Sun 9-5; Jul-Aug Tue-Sun 9-6
Getting there: Directions: Bus from Prague-Holešovice; 45 minutes. Distance: 30 km north of Prague.