In Prague, you are not short of great dining choices, and the city is rightly renowned for offering a great and varied selection of food for locals and tourists. This can make it difficult to find somewhere that stands out, but the Mlynec Restaurant is always a great choice of restaurant. This restaurant boasts the first Czech Republic chef, Marek Purkart, to be awarded the Michelin Bibendum award on two occasions.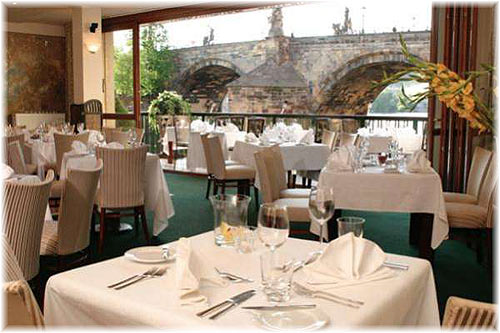 The View Is Stunning
This marks the Mlynec out as a fantastic establishment with a strong reputation, but the restaurant's location also makes it well worth visiting. The restaurant can be found next to the Charles Bridge, set in the heart of Prague. This means it is a convenient place for tourists to visit but also provides stunning views during meal times.
The view is excellent, but the food is just as good, and anyone that visits the Mlynec will not be disappointed.  There is a full A La Carte menu to experience, but it is the main courses grab the attention here.
Grilled food appears to be the speciality, but with choices between perch, salmon, suckling piglet chops, guinea-fowl, fallow deer medallions and beef fillet steak, there is a whole host of dining options for anyone.  The prices for these main courses range between 495 CZK and 595 CZK, providing great value for such highly valued food.
Food From All Over the World Can Be Sampled Here
The Mlynec offers a great Thai experience, but the menu caters for food from all over the world with traditional Czech food sitting alongside French, Japanese and Thai. There is also a fine selection of vegetarian foods to choose from, which should ensure that every diner is able to find something that they enjoy.
With a reputation that is second to none and a location that takes some beating, the Mlynec restaurant is one of the best restaurants in the city.
Address: Mlynec Restaurant, Old Town, Prague 1