The Municipal House is known mainly for its Concert Hall.
Prague's most prominent Art Nouveau building was built between 1906 and 1912 and is situated on the former Royal Court Palace site. It is a popular stop for visitors drawn in by the Art Nouveau gold trimmings, stained glass, sculpture, and the regular exhibitions and concerts.
Historically the building had been used as a seminary and a military college but was finally demolished and replaced by the present cultural centre with many exhibition halls and an auditorium designed by A. Balasek. On 28 October 1918, the Municipal House was the scene of the proclamation of the independent state of Czechoslovakia. In November 1989, meetings were held here between the Civic Forum and the communist regime.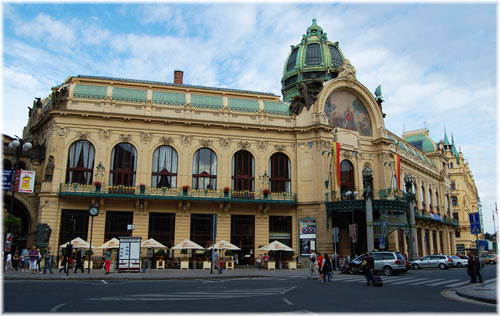 Smetana Hall, situated in the heart of the building, is used as a concert hall and ballroom. The interior is decorated with works by leading Czech artists from the first decade of the century – most notably the famous Alfons Mucha.
Municipal House also contains several smaller halls, conference rooms and offices as well as coffee rooms and restaurants (a café, a French res-
taurant, and a beer cellar) where the visitor can relax and admire the breathtaking Art Nouveau decoration.
Municipal House Tours

The Municipal House offers tours of the building's ceremonial halls with professional commentary. Visitors have a unique opportunity to see the diverse halls and parlours, which annually host hundreds of important social and cultural events — concerts, exhibitions, conferences, receptions, balls. Part of the tour is also a visit to Smetana Hall, a famous concert hall with a seating capacity of 1200, and the hall's original organ, which dates back to the high Art-Nouveau period. An unforgettable experience is the Mayor's Hall, decorated by Alfons Mucha. Mucha's decoration of this hall presents a rare, uniquely preserved artistic whole. Tours do not take place regularly, for the monthly schedule goto www.obecnidum.cz
Address: Náměstí republiky 5, New Town
Other names: Obecní dům
Opening hours: daily 10-6
Admission: 180 CZK, 15% discount with Prague Card