Žižkov Hill is the thin green wedge of land that separates the Žižkov and Karlín districts, offering a panoramic view over the city centre. On July 14, 1420, it was here that the Hussites enjoyed their first and finest victory at the Battle of Vítkov, under the inspired leadership of the one-eyed general, Jan Žižka.
Jan Zizka Statue
Jan Zizka's Statue of Czech history is visible from many monuments in Prague, one being the equestrian statue of Jan Zizka on Vitkov Hill in Prague-Zizkov. Jan Zizka was the one-eyed leader of the Hussite army who gained victory over the Crusaders sent to destroy the Hussites' movement. The battle took place on Vitkov Hill in Prague on 14 July 1420. To commemorate Jan Zizka's victory, the Prague quarter is named after him, and an equestrian statue by Bohumil Kafka was erected in 1950.
The Jan Zizka bronze statue is the largest equestrian statue in the world, and it stretches awkwardly along a long, narrow hill in Zizkov. It is about 9 metres (30ft) high, and together with the pedestal, measures 22 metres (72ft). It weighs 16.5 tons, and just the head of the statue weighs 109kg.
It is said that the Gestapo searched for the model of the Jan Zizka statue to destroy it. The model had to be cut into pieces and hidden in many places, including a cellar underneath some coal. After World War II, the pieces were put back together, and the statue was cast according to the model. The creator of the model, Bohumil Kafka, tried to make the statue as realistic as possible. He died before the statue was ready.
National Monument
National Monument on Vitkov – Behind the statue of Jan Zizka on Vitkov Hill, you can see a massive building called the National Monument built in the years 1927-32 in honour of the Czech legionary and foundation of former Czechoslovakia. Vitkov Hill in Prague was a good place for the monument. It was the site of the battle of the Hussites against the Crusaders, and 15,000 people demonstrated there in 1868 to support the Czech national revival. One of the founder stones for the National Theatre was broken off there in the same year.
Inside the National Monument, you can find a memorial hall containing the largest organs in the Czech Republic. The monument became a symbol of the independent republic, although it was used by the Nazis as an arsenal and eventually became a Communist mausoleum, where the three Communist presidents are buried. It is also the Tomb of the Unknown Soldier, where wreath-laying ceremonies take place.
The monument now houses a fascinating museum on Czech twentieth-century history, a Communist monument to the fallen of World War II, and a café on top.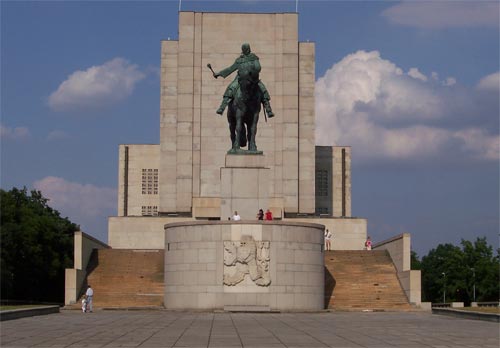 Address: U památníku, Prague; Museum open Wed-Sun 10.00am-6.00pm (admission 110 CZK)