At the head of Wenceslas Square is the National Museum. It is a Czech scientific institution intended to establish, prepare and publicly exhibit natural scientific and historical collections. The largest and oldest Czech museum is housed in a monumental neo-renaissance building designed by Josef Schulz in the 1880s.
At present, the National Museum shelters almost 14 million items. You can see prehistoric Bohemia, Moravia and Slovakia through a collection of rocks and fossils and palaeontological, zoological and anthropological exhibits. Throughout the entire year, visitors may view the permanent exhibits of the National Museum and many temporary exhibits. These are generally housed in the Hollareum exhibit hall on the ground floor of the main building and the two corridors leading to this space from the entrance vestibule. There are often other small exhibits in the Museum of Book Culture, also on the ground floor before the entrance into the National Museum Library study room. On the first floor, three rooms across from the Pantheon are occasionally reserved for exhibits. Spacious, less extensive exhibits are presented on the second-floor gallery while, in the Pantheon itself, there are periodic exhibits of exceptional significance. The Pantheon is also often used for exceptional evening social events. The interior staircase of the National Museum building is a space that has remarkably fine acoustics and thus is the place of the favourite traditional chamber and choral concerts.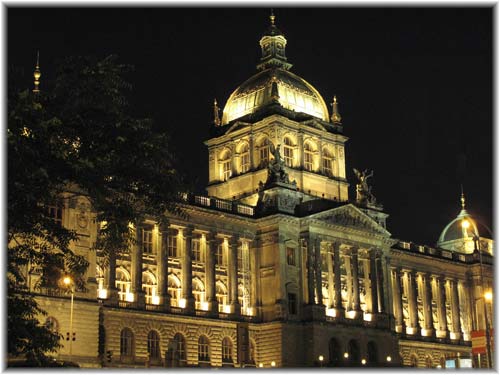 Location: Wenceslas Square 68; Getting there: Metro A, C – station Muzeum
Open daily Mon-Fri 10-18; Sat 10-20; Sun 10-19; on the first Tuesday of every month, it is closed.
Admission: free 1st Monday of each month otherwise 150 CZK; admission free with Prague Card