Prague is a popular destination during the Christmas holidays, and the same goes for New Year's Eve. The celebrations are enjoyed by all, including the young and old, the quiet and romantic couples, individuals and groups. There are entertainment options to suit all tastes, from classical music concerts to traditional Christmas markets, from boat cruises on the River Vltava to dance clubs and special programmes at bars and restaurants.
New Year's Day is celebrated in much the same way in Prague as in the rest of the world's cities. People gather with friends and family on December 31, and drink, have a special dinner, enjoy spectacular fireworks, and have a champagne toast at the stroke of midnight to celebrate the arrival of the year.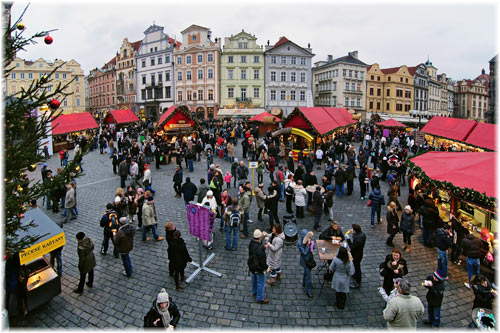 New Year's Eve Prague Activities
Some visitors and locals choose a restaurant with an all-inclusive night of fine food, drinks, and dancing, while others prefer a romantic, candlelit dinner in one of the more quiet parts of central Prague like Mala Strana. Most parties of younger crowds go on a bar crawl, and after the fireworks, they try to find a club, which can sometimes be hard around Old Town Square. Others buy tickets for a party in a club or a music bar. Good fun is guaranteed at the enormous party for several thousand modern music lovers on the Prague Exhibition Grounds. But if you are in the mood for something more relaxed, you might visit one of the New Year's concerts at Rudolfinum or Municipal House, or even go to mass in some of Prague's splendid churches. Finally, there are also popular Party Boats with all-inclusive drink and food menus.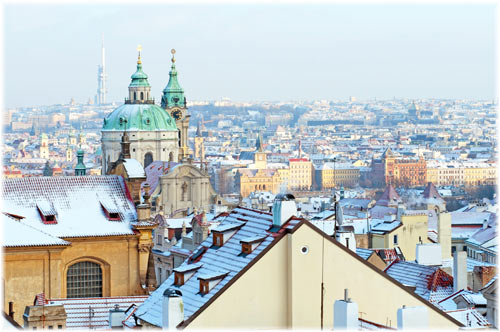 New Year's Eve Fireworks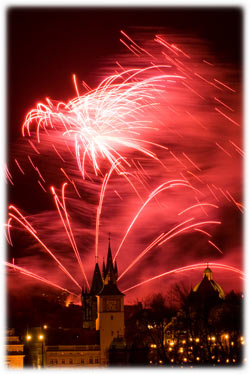 Prague's New Year's fireworks have become very popular, attracting tens of thousands of visitors to Prague every year. When midnight comes, crowds gather around the city to watch one of several firework shows. Head for fireworks shows anywhere on or overlooking the river – this means near Charles Bridge, Prague Castle, or Petrin Hill. The best views are from nearby restaurants, riverboats, or just from the streets, the banks and bridges. The atmosphere is fun, lively and relaxed, as you admire the beauty of the fireworks over the water, with the backdrop of Charles Bridge, Prague Castle and the Old Town. But if you wish to mingle with party crowds and get a more 'lively' feel, head directly to the Old Town Square, where masses await New Year's approach from the early evening hours. Then at the stroke of midnight, the atmosphere gets more of a vibe! Locals enjoy setting off fireworks, and although there is an aerial display, many fireworks at the Old Town Square are handheld and fired off by the crowd.
Prague is a great destination for a New Year's Eve party celebration – we hope you enjoy it too! Not forgetting to mention that the Czechs say that as it is on New Year's Day, it shall be the rest of the year. So hopefully, you will return to Prague again.