The O2 Sazava Fest started as a one-day event in 2001 for 1800 people, with only one stage and a much more genuine cast, from a festival for 1800. Today the Sazava Fest has become a respectable festival for more than 20,000, lasting for four days on six stages. The Festival has become a sought-after event, attracting bigger crowds and stars every year. It has become a challenge for the promoters, as they now have to take care of the second biggest festival in the Czech Republic. The Festival's dramaturgy focus definitely lies in the idea of a multicultural festival. The dominant role belongs to multi-genre music produced by live groups. The festival is multicultural (music, theatre, film, author's readings, photo and art exhibitions etc.). It covers multiple musical genres, including world music, rock, pop, reggae, ska, jazz, blues, dance and hip hop.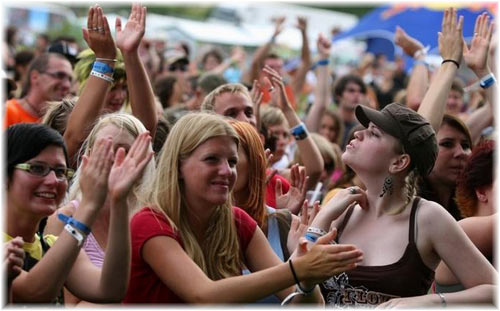 The additional programme consists mainly of the 'Adrenalin zone' with the chance to spend time climbing, getting an airbrush tattoo, or any other dangerous things.
If you are an internet addict, there is an internet café in the Bubble Zone, where you can also charge your mobile battery.
Students can save some money:
Holders of student cards are eligible for discounts.
Regarding hygiene and security issues:
Portable bathrooms and a portable water supply are available on the site. But be sure to take enough bottles of drinkable water with you. There is no campsite fee, so feel free to set up your tent there, knowing that security staff and systems keep an eye on your stuff. If you prefer not to leave your belongings in the tent or the car, you can use the non-stop safety boxes available there.
Food and drinks:
Krusovice, Musketyr, or Heineken beers are available (priced at 35 CZK for 0.5l), as well as some cheap wine. If you are hungry, there are plenty of kiosks selling sausages and grilled chicken, but also Hare-Krishna vegan food and international foods, like Mexican cuisine.
Location:
The festival is held in Kacov village, around 60km from Prague.
By train from the main station (Čerčany → Kácov)
By bus: line 124530 Praha-Kladruby-Kácov; bus line 124570 Praha-Vlašim-Kácov-Zbizuby
By car: from Prague / Brno; D1 Exit 49 → Psáře → Kácov (5km)
Ticket prices:
Prices vary from year to year, but recently they have been around 1000 CZK. You can save some money if booking in advance etc. More info: website.