Founded around 1270, the Old-New Synagogue (Staronová Synagoga) is the oldest in Europe and is still open for worship. The name comes from the fact that when the synagogue was built, there already existed one place of worship, so this one had to be called the New synagogue and other Old. Later, Old was demolished and as years passed New synagogue became Old and subsequently labelled 'Old-New'.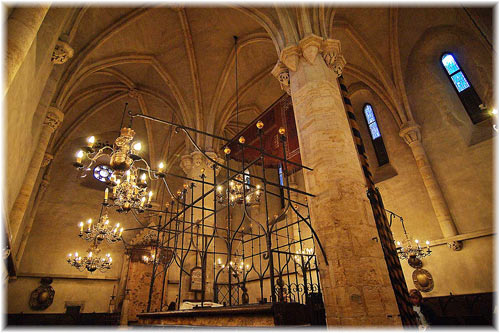 A typical Gothic building with a double nave, its most unusual feature is the five-ribbed vaulting of the main hall, unique in Bohemian architecture. Other details to look out for are the stepped brick gables on the exterior, the grape clusters and vine leaf motifs above the entrance portal and the medieval furnishings, including stone pews. During the Sabbath (Saturday) service, seven members of the congregation join in the reading.

Location: Prague 1, Červená 2
Opening hours: synagogue is now opened for public every day except Saturdays and Jewish Holidays; daily except Saturdays and Jewish holidays 9.30 a.m. – 4.30 p.m. (January — March); 9.30 a.m. — 6 p.m. (April — October); 9.30 a.m. – 4.30 p.m. (November — December).