Standing on one of the bridges before the Charles Bridge or sailing on the Vltava River, you will notice the Old Town Water Tower (Staromestska vodarna). The tower is situated on the right bank of the river close to the place called Novotny Footbridge (Novetneho lavka). The Old Town Water Tower was used to supply the Old Town's fountains with water, even though it had to struggle for its existence several times during its long history.
The first records of the tower (originally, the tower was made of wood) date back to the beginning of the 15th century. As the workers in the tower used to use open fires to melt frozen water in the pipes during winter, the tower has been damaged by fire many times. But the fire was not the only element the tower had to fight against; others included floods and icebergs, as well as attacks from foreign intruders.
Its present look comes from 1577, or rather from 1878, when the tower acquired another floor and the clock tower. Ten years later, a new neo-Gothic roof was added. The tower served its purpose until 1880.
The neighbouring white water house used to contain a device that pumped water to the water tower and was used from 1883 until 1913. Its façade is decorated with black-and-white sgraffito, depicting Old Prague's defence against Swedish troops in 1868.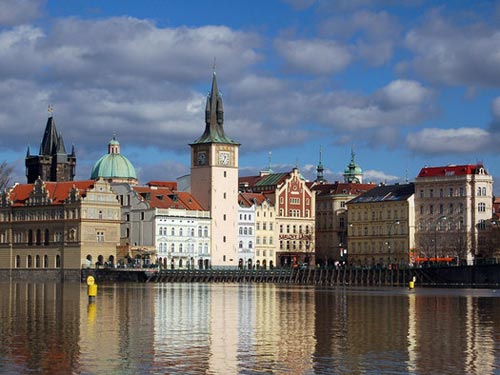 At the beginning of the 20th century, a large reconstruction of the house was made for the Bedrich Smetana Museum. The museum was opened on 12th May 1936 and is now part of the National Museum.