Following the White Mountain Battle of 1622 to 1624, unidentified builders erected a chapel on a plain that was close by as a tribute to those who died in the battle. Initially devoted to St Wenceslaus and, afterwards, made sacred to Our Lady, the fallen's unearthed bones were put here. The 1st to start managing this area was Servite Order, who, with Emperor Ferdinand, the second's support, began (in 1628) to construct a monastery. However, this monastery was never finished, so the uncompleted area was transformed later into an inn for the roadside.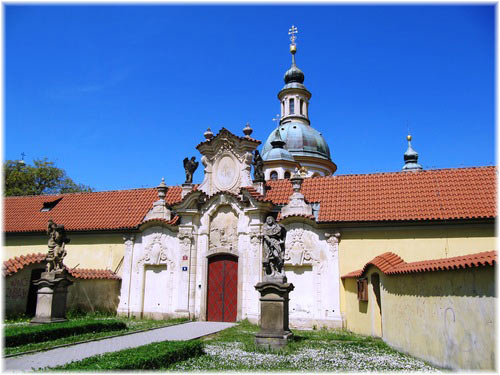 Marian's Chapel became, later, the setting for an expanded pilgrimage church constructed from 1708 to 1730 by painter and building contractor Kristian Luna (often K Dienzenhofer is credited as the architect). This building is a usual Baroque pilgrimage setting with the church at the centre and chapels surrounding it, an administrator's residence and an ambit. Famous Bavarian artist, Cosmas Damian Asam, crafted the Church's fresco Glorification by the Patron Saints of Czech in the cupola at the centre.
The site's most important area is the complex architectural portal on the south entrance. A sculpture, from 1710, by Johann Ulrich Mayer of the Annunciation is on its' portal; St Rochus and St Sebastian's statues, presumably sculpted by this artist as well, stand at the front of this portal. The most important item is at St Wenceslaus Chapel's altar – a portrayal of Christ's birth, with Christ shown in a diaper made from cloth. The painting's original, which was given the blessing of Father Dominic before the White Mountain Battle, was burned, but, fortunately, 3 copies had already been produced. One of these is situated at Prague's church of the Infant Jesus, the other's located at the Vatican and the 3rd is the one housed here.
Once Joseph, the second, decided to auction the church off in 1811, the canon Josef Čapek bought it, maintained the area and gave it back to the church.
The church is part of the Roman Catholic Churches and is managed by the St. Margret Benedictines in Břevnov.
This is located at Karlovarská 3/6 in Zbečenská, Prague 6.