Only a stone throw away from the Prague Castle is Petřín Hill. Perfect place for summer walks away from the bustle of tourists. Part of the land is set aside for an apple and a pear orchard from which the fruit can be freely picked from the trees. Much of the stone used in building the major sights in Prague was quarried out of Petrin. However, today this is not noticeable beneath the trees and gardens. The observation tower and a manicured garden dominate the summit. Halfway down is the famous restaurant Vinarna Nebozizek – where you can enjoy a meal with a perfect view of Prague. Don't forget the hall of mirrors for a new and varied perspective of yourself – The Petrin Hill Maze. Originally a pavilion of the Czech Tourist Club at the 1891 Universal Exhibition was transferred later to Petrin Hill and turned into a mirror maze. It is a favourite spot for the children.
The hill is 318 meters or 1043 feet high. For those less energetic, a funicular will save you trouble climbing and costs the same as a normal tram ticket price. Petrin Hill is also easily accessible from Hradcany and Strahov.
Petřín Look-Out Tower
An iron tower 60m high, built-in 1891 by F. Prášil for the Jubilee Exhibition as a copy of the Eiffel Tower in Paris. 299 steps lead up to the top platform. read more
Petřín Parks
In the Middle Ages, there were vineyards and fields. There have always been numerous springs on the Petřín slopes, and the water was lead via a set of tunnels to Pohořelec and Lesser Town. Currently, water is lead to the river Vltava. In the 1930s, the park was modified and now consists of Lobkowicz Garden, Nebozízek, Rose Park, Park at the Look-out Petřín Tower and Seminary Garden. All gardens, except for Lobkowicz Garden, are open to the public free of charge. 
Funicular Railway to Petrin Hill
Just opposite to tram stop Ujezd (trams 12, 22, 23) in Lesser Town. Railway runs daily from 9 a.m. to 11:30 p.m. (11:20 p.m. from November to March) in 10-15 min. Intervals.
The charming Victorian Funicular is one of Prague's most popular sights. The original Ujezd station, and the original Lanova Draha, were built in 1891 for the same exposition that the Petrin watchtower was built for. It has since been rebuilt several times. Actually, surprisingly before the end of Communism, this latest restoration is one of the most successful, as the various rebuilds have been required by the whole system's falling apart again and again.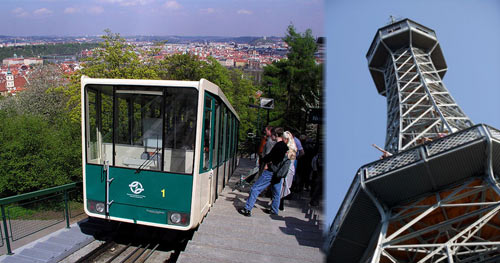 Maze (mirror maze)
Fun for all. Located on the Petrin Hill. A pavilion built-in 1891 for the Jubilee Exhibition, later transferred to Petřín. There is a dioramic picture commemorating the battle of students with Swedes on Charles Bridge in 1648 and a later on constructed mirror labyrinth.
Admission: 70 CZK, admission free with Prague Card
Opening hours: Sat. + Sun. 10 a.m. – 5 p.m. (January – March, November, December)
daily 10 a.m. – 7 p.m. (April) daily 10 a.m. – 10 p.m. (May – August)
daily 10 a.m.- 8 p.m. (September)
daily 10 a.m. – 6 p.m. (October)
daily 10 a.m. – 5 p.m. (Christmas and spring vacations)
Nebožížek Restaurant
The food isn't that much great, but the views from the terrace are spectacular. The restaurant is often full, good to reserve a table.
Petřínské sady, Malá Strana t. 257 315 329 (can be reached by funicular).
Vrtba Garden
Vrtba Garden is situated on the slope of Petrin Hill and is one of the most precious and beautiful of Prague's Baroque gardens.
Tip: Petrin Hill Štefánik Observatory – Astronomical Exposition, the Domes and Telescopes