Plzeň and beer; two are inseparable. Even non-drinkers will find it striking, memorable and wholly apart from Prague in look and feel. You can set out on tour tracing the history and present of brewing in the city, during which you will inevitably end up in one of the many excellent pubs.
Plzeň (known as Pilsen), the most important city in West Bohemia, is only an hour's drive from Prague along the motorway. The city has become famous throughout the world thanks to the excellent Pilsner Urquell beer brewed here. Beer has been brewed in Plzeň since 1295. Therefore, it is not surprising that thousands of tourists visit the city every year to see how the beer is brewed and to taste it at its very source. The guided tour of the cellars (9km/5.5 miles in all) includes a visit to the extravagantly decorated beer hall, which is definitely an experience not to be missed. However, tourists are also drawn in the same numbers to the old centre of the city, which documents the history of Plzeň going back seven centuries.
The West Bohemia city of Plzeň, or Pilsen to English-speakers, would be worth a visit even if it weren't synonymous with the greatest Czech invention and export, Pilsner Urquell lager. But, of course, after a century and a half of basking in the golden glow of its brewing expertise, it's impossible to separate the city from images of fine mugs of froth. Even non-drinkers will find it striking, memorable and wholly apart from Prague in look and feel.
Urquell Brewery Tours
Get acquainted with the secret of the unique procedure of brewing Pilsner Urquell beer, visit the labyrinth of the brewery cellars where the traditional production of beer still takes place -the beer ferments and matures here in oak vets and barrels. You can also see an exhibition featuring the coopers' workshop.
Brewery tours: daily 12.30 and 2 pm unless booked in advance.
Tip: You can book a Plzen 5hrs excursion here.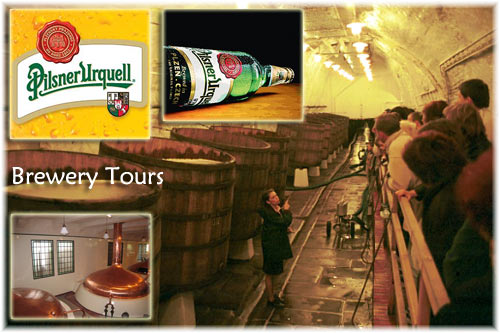 Brewery Museum

The Brewery Museum is situated in a medieval house that had a brewing permit. It narrates the story of beer from the ancient world to the present. (address: Velesiavínova 6, Plzeň), Museum: 377 235 574  
"Na Parkánu" Pub

Enjoy the Pilsner Urquell beer and various beer specialities in a pleasant atmosphere of the traditional old-time pub situated next to the Brewery Museum.
"Na Spilce" Restaurant

You will find a rich offer of traditional Czech dishes and the excellent Pilsner Urquell beer directly from the source. The restaurant is situated in the brewery courtyard.
Once you've sufficiently satiated your knowledge of beer-making and tasted enough samples of freshly brewed beer, check out the pretty town square and other city monuments, especially St. Bartholomew's Cathedral, which dominates the city (has the tallest steeple in the country). A 20-kilometre long labyrinth of old underground cellars and corridors leads beneath the old city centre at various levels.
Great Synagogue
The second-largest synagogue in Europe, founded in 1894, stands as a testament to the Jewish community that thrived here until World War II. Its pneumatic organ is a gem, still used for concerts, and post-1989 restoration has done wonders Sady Pětatřicátníko 11. Open 9am-1pm Mon-Fri. Admission 120 CZK.
West Bohemian Museum
Visit multi-storey natural history collection in a stately building at the bottom of the green boulevard just north of Americká. The number of cafés and good restaurants in this area, which surrounds the city's main square, make it ideal for strolling.
Address: Kopeckého sady 2, www.zcm.cz
Zoo & Botanical Garden
This is a good bet. It can be combined with a visit to the attached DinoPark, complete with roaring thunder lizards. Just bear in mind that it's on the northwest edge of town and best reached by car or a lengthy ride on trams 1 and 4.
Address: Pod Vinicemi 9, www.zooplzen.cz
Pilsen Tourist Information Centre
Náměstí Republiky 41, 301 16 Plzeň, tel: (+420) 378 035 330
Pilsner Urquell Brewery, U Prazdroje 7, Plzeň Brewery tel. (+420) 378 035 330
Brewery visitor centre, tel. (+420) 377 062 888
Getting there
By bus: from Florenc, 90 minutes. By car: Pilsen is 90 km southwest of Prague. Take the E50 motorway directly to Pilsen. By train: A dozen trains leave from Hlavní nádraží daily; journey time is around 1hr 40mins. Or book private transport/excursion.