The town of Poděbrady is in the picturesque lowlands of the Labe (Elbe) river valley by the D 11 motorway 50 kilometres east of Prague. The first settlement appeared here near a ford across the River Labe. In the second half of the 13th century, Bohemian King Otakar II gained the town and had a stone castle built above the river in 1262 – 1268. After many adaptations over the centuries, this castle still stands today. The biggest boom for the town came under the Lords of Kunštát, of whom the most prominent was George of Poděbrady, who was elected King of Bohemia in 1458.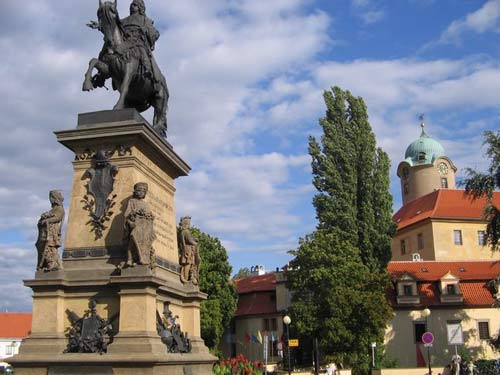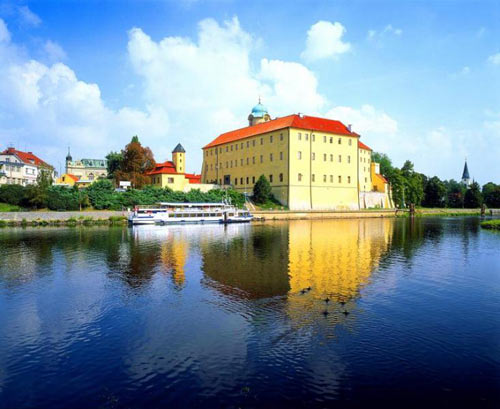 Sights
Castle – King George's native hall, equestrian statue of King George, Church of the Holy Rood, Marian Column, the "miners"' church, the Labe River Valley Museum. 
Podebrady Chateau
In the first half of the 12th century, this chateau was founded as a fortress on a limestone rock overlooking the Elbe River. The castle was newly rebuilt and fortified during the 14th and early 15th centuries. During the reign of Emperor Ferdinand I in the latter half of the 16th century, the Renaissance reconstruction of the castle was carried out.
King George Square
This square is the oldest part of the town. The Renaissance arcading and colourful facades of the houses of the 16th and 17th centuries fell victim particularly to the fires in 1800 and in 1832. In 1993 the square gained a new, interesting appearance after a general reconstruction.
The Equestrian Statue of King George
The statue is the work of Bohuslav Schnirch, which was made using a unique method. It was originally installed at the Jubilee and Ethnographical Exhibition in Prague and was solemnly unveiled at Poděbrady in 1896.
The Marian Column
This was raised in the square as a monument to the plague, which raged in the town in 1714.
The Old Town Hall
This was built to replace the burned-out Town Hall building and served Town Hall purposes until World War II. Old Town Hall is now used as the municipal library.
Activities
For visitors, Podebrady offers tennis courts, golf and mini-golf courses, a swimming pool (former sand mining area), surfing, yachting, angling, volleyball courts, a shooting range, horse riding, squash courts, skittles, walking and cycling trails and horse-riding along the Elbe.
Poděbrady Spa
Specialised in the treatment of cardiovascular disorders, high blood pressure, diabetes, spine and joints, obesity and high blood cholesterol.  Address: Lázně Poděbrady, a.s. Jiřího náměstí 3911, 290 33 Poděbrady.