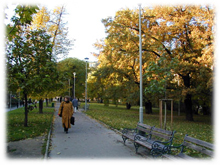 It is a place suitable for taking drugs, said the municipal police of Prague 1 about the park at the Main Railway station. And the police started giving drug addicts leaflets promising they would be less monitored by the police there. Instead of trying to clean the city centre of dealers, they move drug addicts to a less visible place.
This decision of the police was intended to help Wenceslas Square where the drug addicts assemble now and where they leave used syringes. The rear side of the letter even had a map showing the location!
"It is true we gave away such leaflets, but the only purpose was to make the drug addicts not take drugs in the very centre of Wenceslas Square. However we certainly did not promise tolerance to any criminal activities," the spokeswoman of the municipal police, Jana Přikrylová, protested when faced with the allegation.
These steps were of course not welcomed by the company Grandi Stazioni, which reconstructed the railway station building, nor by the Czech Railways management. Every day tens of thousands of passengers pass through the railway station, and they certainly do not want to watch the drug-addicted human wrecks.