Football, followed by ice hockey, are national obsessions in Prague. The national football team performs well in competitions, having won the European Championship in 1976, and reached the final in 1996 and the semi-final in 2004. But in the World Cup in Germany in 2006, the Czech team did not perform well and crashed out in the first round. Well-known teams that play in the Czech First Division are Sparta Praha, Slavia Praha and Viktoria Zizkov. Sparta is definitely the most successful team, very often qualifying for the European Champions League. The football seasons run from August to December and from February to June.
The Czech national hockey team has been quite successful in the past decade. The team won an Olympic gold medal in Nagano in 1998 by defeating the Russians in the final. The team then went on to win the World Championship in three consecutive years, 1999, 2000, 2001, and again in 2005. In 2006 they reached the final but lost to Sweden. Prague's two big hockey teams are HC Sparta Praha and HC Slavia Praha. Good young players from both teams are often lured away by the promise of big money in the NHL. Sparta plays at the new, modern T-Mobile Arena at Vystaviste in Holesovice. The ice hockey season runs from September to April.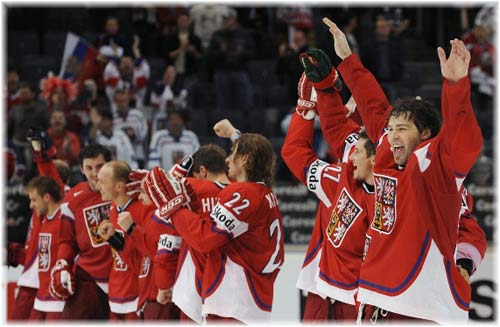 Tennis is another sport that the Czechs perform well in, having produced excellent players such as Martina Navratilova, Jan Kodes, Ivan Lendl, Petr Korda, Hana Mandlikova, Jana Novotna, Cyril Suk, and Nicole Vaidisova. Every May, the Czech Tennis Club on Stvanice Island hosts the Prague Open, established in 2001 in the hope of bringing international tennis talent back to Prague.