Beer does not need to be pasteurised because it is fresh enough at a Tankovna.  There are normal public houses in the city of Prague, and then there are Tankovna Public Houses – i.e. Tank Pubs.  To understand the distinction is to comprehend one explanation why, despite many petitions, the Czech Republic continues to be the World's Beer Capital.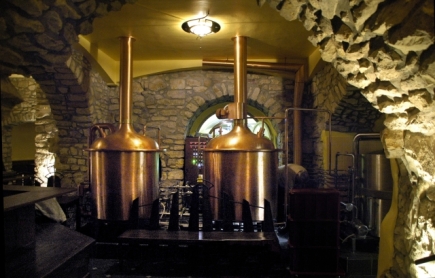 Most branded beer, be it international or local, gets pasteurised before it is exported.  This procedure involves sterilising it at very hot temperatures to destroy all the present bacteria.  Although this procedure settles the beer, making it ready for transport, it also shortens the odds of oxidisation.  This often results in sub-standard bottles with little taste and unappealing flavours, particularly if it's been transported for long distances.  Without any pasteurising, the beer would be likely to decay pretty fast.  However, to combat this issue, the clever Czech beer-drinkers have invented the ground-breaking storage and serving method.
These days, many Public Houses in Prague serve their beer from huge tubes or tanks made from steel that can hold up to 10 hector-litres of beverage in plastic bags, at the required stable temperature of between eight and 10 degrees.  The beer is pushed out of these tanks by high-pressure air compressors, keeping it safe from any possibility of infection while at the same time keeping it fresh.  The result is instantly clear for purists: a more complicated, fuller flavour of spices and hops.
For many years, only a small amount of Public Houses served their Pilsner Urquell beer from tanks. These pubs include U Pinkasů, located at the bottom of Wenceslas Square, hidden round a corner and U Rudolfina and Kolkovna.  These days, however, the industry has come to terms with its very own secret tactic, and tankovnas appear everywhere, with lots of other beer companies wanting a piece of the action.
With Budvar, you can observe the brand new tank machinery recently put in at U Medvídků.  With Staropramen, you only need to go to the Staropramen brewery at Nádražní 43, Smíchov, as they provide brewery tours to educate their customers about what they are drinking.  Finally, for Krušovice, go to Vodičkova 12, where the Beograd Public House is located.  The beer served here was Emperor Rudolf's favourite in the 16th century.  In fact, he enjoyed it so much that he purchased the brewery, which explains its' catchphrase: 'The King's Beer'. Try it at a tankovna and decide for yourself.