More than 185 kilometres of marked cycling trails in and around Prague; however, most of these are mixed with automobile traffic. Nevertheless, the number of dedicated trails for both cyclists and pedestrians continues to grow. A tour of Prague by bike offers an interesting experience both for cyclists and tourists looking for a unique way to take in the city's beauty.
Bicycle paths are distinguished by yellow bicycle signs showing the trail number and the distance to the trail's final destination. It is recommended to consult a bicycle route map (available at most bookshops) before heading out. These maps include a list of trails and a thorough description of both the routes and their difficulty level.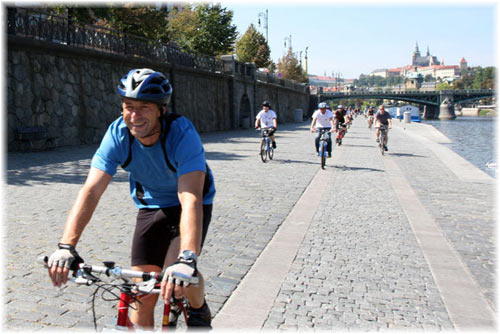 One bike path, which takes in many Prague attractions, is prevalent among cyclists because it allows for a speedy trip between individual points of interest. On the other hand, cyclists should use caution and care when using the trail and pay special attention to pedestrians and car traffic in the city centre.
Bikes can be rented at several rental shops throughout the city centre. Tourists can begin their trip at the Týn Cathedral, St. Nicholas Cathedral, the Old Town Hall and the Old Town Square's Astrological Clock. They can then continue along Pařížská Street and into the Old Jewish Quarter before crossing the Vltava River at Čechův Bridge. Once on the other side of the river, they can go up the hill at Letná. From there, the tour continues in the direction of Troja to the Zoological Gardens and Troja Castle.
For those wanting to leave the city behind, several pleasant routes include a trip to the Prokop Valley (13km), a ride through the Šárecký Valley (28km) and the cycling trail from the National Theatre to Zbraslav (27km).