According to research, Prague is a much-frequented destination of gay tourists. About 400 thousand of them a year arrive there, as shown by the research by the Association of Czech Travel Bureaux and Agencies. The metropolis offers gays about 30 gay clubs as well as a special accommodation.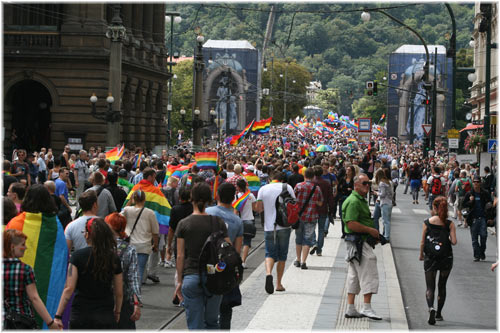 There are several reasons why Prague is more and more popular among gay tourists. It is mainly the fact that the Czechs are an atheistic nation, which is why they are not of such a tight opinion of homosexuality as the Polish, and also because thanks to its high tourist arrivals rate (over four million foreigners a year on average) Prague is also very anonymous and so nobody pays heed to gay tourists.
We estimate that the Czech Republic is visited by about 400 thousand gay tourists in total per year on average, of which about two-thirds arrive right in Prague.
There are about 40 to 50 specialized businesses for gays, i.e. clubs, coffeehouses and saunas, in the Czech Republic. More than 30 of them are situated in the capital city. The remaining businesses are then located, especially in Brno and in Ostrava. 5 % of the clients of these establishments consist of foreigners, and the number of them increases regularly.
A popular address with various clubs for gays has become Vinohrady, where five gay clubs are situated close to each other.
The most popular and largest gay club in the Czech Republic is Valentino in the Vinohradská Street in Prague 2. It provides three floors for its clients. But the Vinohrady club Termix and Friends, also enjoy popularity. The best known gay coffee house is Latimere, and the best-known sauna is Bybolonia in Martinská Street in Prague 1. It is mainly young people and tourists who visit the clubs mentioned.
Many people indeed visit these clubs for sex (e.g. prostitutes offer their services in an unnamed Prague club in Žižkov). But some clubs eject such people immediately, and people usually meet at such clubs.
However, Prague offers special accommodation facilities for gay tourists, and an interested person can select from approximately ten options. Moreover, the owners themselves are usually gays, so that they have sympathy for their visitors, meaning that a client does not have to pretend anything. In addition to this, such hotels are situated in the city centre, especially in Wenceslas Square and Old Town Square's surroundings.