The Prague International Marathon is the largest running event in the Czech Republic and is considered one of the fastest in the world. Every spring, thousands of top runners from every continent, some of whom rank among the world's elite, travel to Prague for the event. The race starts and finishes on the Old Town Square in the heart of Prague. Competitors pass through the historical parts of the Czech capital and along the banks of the Vltava. Conductors along the route ensure that runners can continue at an optimum pace. The time limit for the race is six hours, and the event enjoys the same atmosphere as marathons held in New York and Chicago.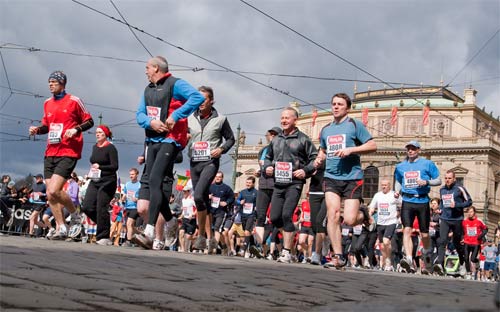 The Prague International Marathon is organised as part of a marathon weekend that includes several races of varying lengths and a rich cultural programme. Participants can compete in fun runs such as the eight-kilometre City Run or the four-kilometre family event. The two-kilometre Walk for Health is also organised for anyone who, for whatever reason, can't participate in the other events. Finally, in-line skaters also have their own race, which is routed through those parts of the course with a suitable surface for in-line skates.
Other events during the year include the Prague Half-Marathon and Corporate Half-Marathon, which start at Charles Bridge and run 21 kilometres through the city's historical centre before finishing at the Rudolfinum concert hall.
The final event of the Prague racing season is the Prague Grand Prix in the fall, which consists of a ten-kilometre men's race and a five-kilometre women's race. All races are generally held in Prague's historic centre and along the banks of the Vltava. (website)