If you want to buy something different or save some money, try Prague's markets. Some markets sell just fruit and vegetables; others target tourists and sell handicrafts etc. They might seem a bit tacky, but there is goodies to be found, sometimes quite interesting stuff. You can find many markets around tourist spots as well.
Havelský Trh
(Havel's Market). A very popular market, located on a short street that runs perpendicular to Melantrichova, connects Old Town Square with Wenceslas Square (metro station Mustek, Prague 1). Most vendors sell seasonal home-grown fruits, vegetables, wooden toys, Czech crystal, jewellery, honey and flowers.
Open: 06.00-18-30 Mon-Fri, 08.00-18.00 Sat & Sun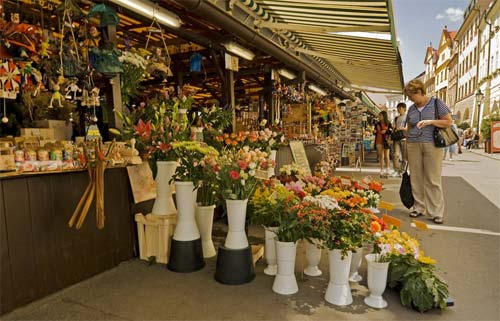 Pražská Tržnice
(Trznice Market). The largest outdoor market in Prague. You can find various consumer goods here, and the prices are likely to be lower than in stores. Location: Prague 7, Holesovice (metro station Vltavska).
Open: 08.00-18.00 Mon-Fri, 08.00-13.00 Sat, closed Sun
Flea Market (Bleší trhy Praha)
In the socialist era, the largest tram factory in the world stood there. The factory has long since disappeared, and the 5000 sq. metre site now hosts a market with a vast array of wares, where even busts of Marx or Lenin medals may be purchased. Address: Kolbenova 9, Open: Sat and Sun 7am-2pm; www.blesitrhy.cz
Pankrác Tžnice
(Pankrac Market). Many small outdoor stalls offering seasonal fruit and vegetables. Location: Prague 4, (metro station Pankrac).
Charles Bridge Market
A range of crafts, jewellery, photography, paintings and other hand-made goods.
Other small markets
can be found at metro station Karlovo Namesti and Hradcanska (mostly selling fresh produce).
Seasonal markets