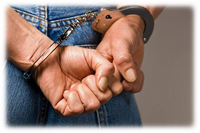 On 9 September 2011, detectives managed to identify two youngsters who are suspected of raping a 20-year-old British woman in Prague in late May 2011.
According to the police, the young woman arrived in Prague in late May with her friend to visit an acquaintance. "In the evening they went to the city centre for entertainment, and they were drinking in various bars and clubs till five o'clock in the morning. Quite intoxicated with alcohol, they set off for home then. The twenty-year-old woman met two young men near Jungman Square, and she got into a taxi with them," the police spokeswoman stated in June.
The three travelled to Prague 5, where, according to the police, in one of the flats near the Stroupežnického Street, the young men raped the woman. "But she did not report the event to the Police of the Czech Republic and left for her home country. After several days she changed her mind and mentioned the incident to her mother, who immediately contacted the police," said the spokeswoman.
The detectives managed to obtain security camera footage which recorded how the three people met in the street. After publishing the video, the police were contacted by many people who were able to identify the young men in the video.