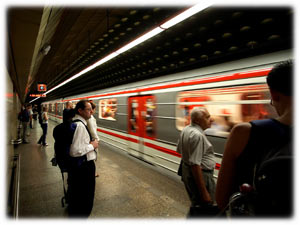 85 Police Officers Supervise Security Every Day
The security of passengers in the Prague Metro is now supervised by a police presence which has increased by 70 percent. They will not only protect passengers from aggressors and pickpockets, but also clear the urban public transport areas of syringes, for example.
Only 50 police officers performed patrol services in the Metro initially, but this has now increased to 85. After recent aggressive attacks on passengers, the Metro areas are perceived by people as the most dangerous ones.
One of the reasons to increase the number of the police officers in the Prague public transport is
a result of research, in which inhabitants of Prague expressed their feeling that they did not feel entirely safe in public transport.
According to Ludvík Klema, the current Chief of the Metropolitan Police, 550 police officers on average move around Prague, and those moving on foot around the metropolis should now use trams and buses more frequently to move in order to supervise the security of passengers.
Passengers who commute to distant areas of the metropolis spend up to several hours every day in public transport. During that time they are in danger from pickpockets, vandals, aggressive drivers or other passengers, and are troubled by homeless persons and beggars. In addition, police officers should check urban public transport areas and clear them of hazardous contaminated material such as hypodermic needles and syringes.