Most tourist attractions and city sights are conveniently located within the city and are best reached on foot or by using cheap public transport (metro, tram and buses). To get around without hassle, you will need a map. All means of public transport are operated by Dopravní podnik (DPP). Prague's transport system is very well developed, efficient and accessible, and is very popular with tourists. Compared with other EU countries public transport in Prague is quite cheap. For more information about public transport, go to the web site at www.dpp.cz or visit the information desks located at the airport and selected metro stations, Muzeum (lines A and C), Můstek (lines A and B), Anděl (line B), Nadraží Holešovice (line C) and Černý Most (line B). You can buy tickets and discount cards, and get useful multilingual guides and maps to a whole transport system. Bus and tram timetables are posted at every station, so you know what time to expect their rides.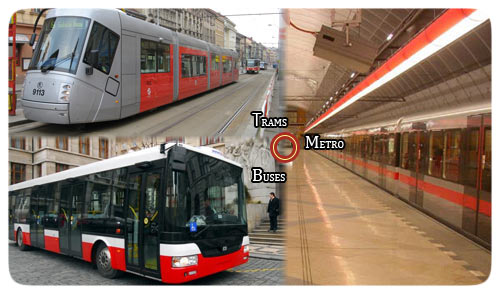 Prague Metro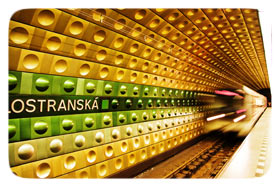 The Prague Metro carries around 400 million passengers a year. It is cheap, fast, efficient, clean and easy to use. Its three lines consist of about 50 km of tracks (running mostly underground) and some 50 stations. All the stops are equipped with escalators and some with a lift for the disabled.
Three lines from the metro: A, B, and C. Lines are colour coded, and the metro is in operation from 5 am to midnight. The green line (line A) connects terminus Skalka and terminus Dejvická. The yellow line connects terminus Černý Most and terminus Zličín and the red line (line C) connects terminus Ládví and terminus Háje. There are three cross stations: Muzeum (lines A and C), Můstek (lines B and A) and Florenc (lines C and B). Time intervals are approximately two to three minutes at rush hour and four to ten minutes off-peak. 
Prague Trams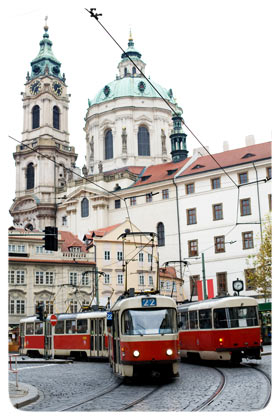 Trams are quite a fast way of getting around and, compared to the metro, you will have the chance to see much more. Tramlines are well structured and organised, cover a large area of the city (with 500 km of tracks) and are used by some 300 million people a year. Daytime trams run from 4.30 am till midnight in eight-to-ten-minute intervals (8 to 15 minutes on weekends). Night trams (numbers 51-58) run from 12.30am until 4.30am in 30-to-40-minute intervals. The central interchange tram stop of night trams is Lazarská stop. Timetables can be found at tram stops. Buy a ticket before boarding the tram and then insert it into a machine inside the door to validate it. Doors open or close automatically, or you must push a button.
Follow one of Prague's most scenic routes, passing by the National Theatre to Staroměstská and Malostranská metro stations, and continuing up to the Belvedér, Prague Castle and Pohořelec, with some stunning views on the way.
Another useful tram route is No.9. This tram runs across the city via Wenceslas Square and onto Lesser Town.
The Nostalgic Tram no. 91 runs on weekends and holidays from the end of March through mid-November. The tram leaves from Střešovice every hour from 12 noon till 6 pm and continues through the city centre. The ticket costs 35 CZK for adults, 20 CZK for children and seniors over 70.
Funicular Railway to Petřín Hill

This is just opposite to tram stop Újezd (trams 12, 22 and 23) in Lesser Town. The railway runs daily from 9 am to 11.30 pm (11.20 pm from November to March) in 10-to-15-minute intervals. The fare is the same ticket as for other public transport (costs 32 CZK). 
City Buses

Buses mostly cover the outskirts of Prague, especially areas that are not covered by the tram system. Daytime buses run from 4.30 am till midnight in six-to-eight-minute intervals in peak hours, 10-to-20-minute intervals in the off-peak hours and 15-to-30-minute intervals on weekends. Night buses (numbers 501-512) run from 12.30 am till 4.30 am in 40-minute intervals. Timetables are located at bus stops. 
Tip: The centre of Prague is relatively small and most of the sights are accessible on foot. We do not recommend driving to the centre as you might encounter heavy traffic jams, impolite behaviour from drivers and a shortage of parking places.
Safety
Please do not underestimate how close to the footpath the trams will be when they reach the stop. It's safer to take a few steps back before the tram arrives, as wing mirrors could cause injury for taller people. In Metro, you should stay behind the dashed safety line on the floor about half a meter from the edge of the platform. It is customary to stand on the right side and walk up on the left side on an escalator. When you use public transport in Prague, keep in mind that it is good etiquette to let older people, pregnant women or disabled people sit down.
Prague City Transport Fares
30-Minute Ticket 24 CZK
90-Minute Ticket 32 CZK
24-hour Pass 110 CZK
3-Day Pass 310 CZK
Month Pass 550 CZK
Month Pass, Child 130 CZK
Month Pass, Student 260 CZK
Month Pass, Senior 250 CZK
Annual Pass 4,750 CZK
Taxi (Airport to City Center) 600 CZK
Taxi (within the centre) around 200 CZK
Travelling by city transport is only possible with a valid ticket. Passengers have to obtain their tickets before boarding the vehicle or entering the metro system. The ticket is valid only if marked in the validation appliance. Tickets can be bought at selected metro stations or in Public transport information centres, hotels, newsstands, travel bureaus, department stores, etc. Tickets can also be bought from the slot machines located at metro stations or near some surface transport stops. The ticket costs 32 CZK (transfer ticket for multiple uses/long ride) and allows you to travel on buses, the metro and trams for up to 90 minutes. You may change trams, buses and the metro as often as you like. You can also buy a 24-hour ticket for 110 CZK and a three-day ticket for 310 CZK. The metro operates from 5 am to midnight. At night there are night trams and buses. The ticket inspectors of Dopravní podnik can check the validity of tickets during travel or within the metro system. If you do not have a valid ticket, you may be asked to pay a penalty of up to 950 CZK.
Free-of-Charge Transport for Passengers and Objects
– children up to six years of age
– citizens of the Czech Republic and foreigners with a residential permit over 70
– disabled in a wheelchair, guide and dog
– prams with babies
– animals in protective boxes
– luggage of size up to 25 x 45 x 70 centimetres
– rod-shaped luggage up to the length of 150 centimetres and 20 centimetres in diameter
– small luggage of size up to 100 x 100 x 5 centimetres
– 1 pair of skis
– a bicycle (on the metro only and off-peak hours) 
Disabled Passengers
If a disabled person in a wheelchair uses the city surface transport, the guide should inform the driver. At the A-line metro station Dejvická, the B-line metro stations Zličín, Stodůlky, Luka, Lužiny, Húrka, Vysočanská, Kolbenova, Hloubětín, Rajská zahrada and Černý Most, and the C-line metro stations Nadraží Holešovice (railway station), Hlavní nádraží (the Main Railway Station), Muzeum and Vyšehrad there is barrierless access to the platform. In a similar way, modified freight lifts can be used in the A-line metro station Skalka, and on the C-line – Florenc, I. P. Pavlova, Pankrác, Roztyly, Chodov, Opatov, Haje stations.
Ticket Inspection
The validity of tickets can be checked by the ticket inspectors of Dopravní podnik during travel or stay in the metro system. The ticket inspector is entitled to ask the passenger to produce his or her valid ticket, to confiscate invalid tickets and to collect a penalty (1500 CZK, if paid on the spot – 800 CZK) in case of travel without a valid ticket. In case of unpaid freight, the inspector collects a penalty of 200 CZK. To prove their identity, inspectors produce yellow-and-red badges. They issue receipts for the penalty amounts.
Transport During Summer Holidays
 Prague public transportation is usually limited within the summer holidays. Some trams and buses will be provisionally annulled; repartitions and modernisations of routes will cause other closures.
Public Transport Information Centres
Muzeum metro: Mon – Sun 7:00-21:00
Můstek metro: Mon – Fri 7:00-18:00
Anděl metro: Mon – Fri 7:00-18:00
Nadrazi Holešovice metro: Mon – Fri 7:00-18:00
Airport Ruzyně Terminal 1: Mon – Sun 7:00-22:00
Airport Ruzyně Termianl 2: Mon – Sun 7:00-22:00
Karlovo Náměstí metro: Mon – Fri 07:00 a.m. to 18:00
Národní třída metro: Mon – Sun 07:00 a.m. to 21:00
Taxi
Taxi service in Prague might be tricky, especially if you use the services offered by a private taxi driver or hail a taxi off the street, so it is a good idea to negotiate your journey in advance. Besides, those taxis remain the most comfortable way to travel. The taxi company with the best reputation is AAA Taxi, which has metered taxis all over Prague or from the airport pre-book cab from Prague Airport Transfers.
Etiquette
On Public Transportation, you will be expected to give up your seat on the tram or metro to elderly or pregnant women and children. In the metro, on escalators, always stand on the right side to let people pass on the left.
Joke: In the metro, the people are often silent and look unhappy. They are not; this is a trait remaining from the communist regime where those who 'spoke a lot' were often arrested.