The Zizkov Television Tower, built between 1985 and 1992, is the new landmark of Prague. It looms above the skyline of Prague on top of a hill in the district of Zizkov, from which it takes its name.
The structure is of a very unconventional design: three concrete pillars, which carry cabinets for the transmitters, a restaurant and cafe, and three observation rooms. The tower stands at 216 metres high, with the observation decks at 100 metres and the tower restaurant and cafe situated at 63 metres in the lower 'pods'. At a surprising speed of 4m/s, the lifts do not take long to travel across this distance. The tower weighs 11800 tons and is also used as a meteorological observatory. It belongs to the World Federation of Great Towers.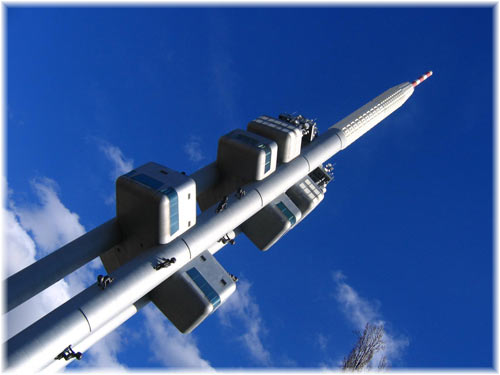 Like many examples of communist-era architecture in Central and Eastern Europe, the TV tower is generally resented and despised by the locals. Although official criticism during the communist era was impossible, unofficially, the tower was criticized for its 'megalomania', its 'jarring' effect on the Prague skyline, and for destroying a part of a Jewish cemetery (which includes Franz Kafka's grave) situated near the tower's foundations. However, the official line stands that the cemetery was moved sometime before the tower was conceived. (read more)
Rumours also circulated about the tower being used to jam incoming western radio transmissions (especially Radio Free Europe) or as a communications tower for use by Warsaw Pact forces in the event of an attack on NATO.
The Czechs are often mystified why visitors (especially from Western Europe and North America) are so fascinated with the tower when they regard it as both an eyesore and a symbol of the legacy of Russian oppression. Curious Westerners possibly regard communist-era relics through different eyes to those who actually had to live 'real life' under the regime. However, the tower management attempted to attract a more home-grown audience by focusing on the towers technological aspects.
In 2000 sculptures of babies crawling up and down the tower's pillars (created by Czech artist David Cerny) were temporarily attached to the tower's pillars. The sculptures were partially well-liked and so came back in 2001 as a permanent installation. However, some citizens of Prague consider these sculptures to have a negative effect on the design of the tower, and they bring down the level of a Hi-tech building.
Location: metro Jiriho z Podebrad. Open from 10 am to 11 pm.
Admission is 150 CZK. There is also a restaurant. www.tower.cz