If you are looking for some unusual Prague sightseeing, you can take advantage of Prague Venice boat trips and see Prague's main sights from the perspective of the fisherman sailing Vltava River with his boat 100 years ago. You will be taken to places which are not so often visited by tourists, for example: watery casemates of the Old Town, Certovka channel and many others. From the boarding place at the site of the former Judith Bridge (by Krizovnicke namesti) you will be taken through a lagoon under Karlovy Lazne (Karlovy Spa) and then you will admire magnificent views or Prague – Prague Castle, Petrin Hill and Lesser Town roofs. National Theatre and then a drive under the Charles Bridge and continues to the Certovka channel. You will be introduced all places seen within the boat drive, all important historical events relating to route by professional guides speaking English, German, Italian, Spanish and French. Wooden Prague Venice boats are unique, as they were built as a copy of original boats sailing Vltava at the end of 19th century. They have flat-bottomed craft sited high up in the river enabling to enter Certovka channel, other tunnels and narrow spaces.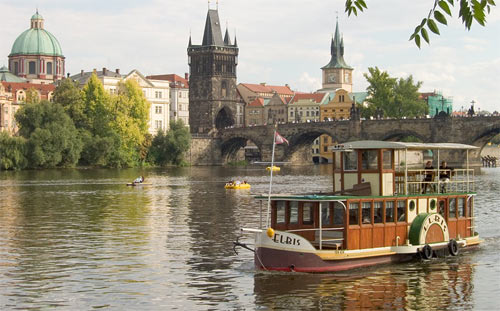 You can enjoy this pleasant experience either in summer as well as in winter, as all boats are heated and roofed. Cold drinks are offered in summer, boiled wine or hot tea provided in winter.
Book your Prague Venice cruise online. Prices range from 250 CZK to 350 CZK depending on the company you choose. Also boat trips differ in length – from 30 minutes to 1 hour. But in all cases price includes one drink sometimes also an ice cream. Boats depart from jetties at the western end of Platnéřská, on the Čertovka stream in Lesser Town and at the western end of Mánes Bridge.
Tip: Book your Prague Venice cruise online.