In the Wax Museum of Prague, you can meet 48 worlds' famous personalities that have influenced history, science, culture, sports and politics. During the exhibit, the magic of Prague will be brought to you by kaleidoscopic cinema as you meet such personalities as King Charles IV, Rudolph II, Franz Kafka, Vaclav Klaus, Rasputin, Albert Einstein, Lady Diana and Charlie Chaplin. From the Tribune of Dictators Lenin, Stalin, Klemet Gottwald (Czech's grown Stalinist), Chruschtschov, Breschnev, Mao Tse-Tung, and Castro will keep a close eye on you. The museum is primarily aimed at a domestic audience. Wax Museum Melantrichova – this part of the Wax Museum was moved in 2003 from the Rapid Palace to the reconstructed area in the Melantrichova Str. The second location of the Wax Museum in Prague contains a professional exhibition of wax figures of Czech most known historical personalities.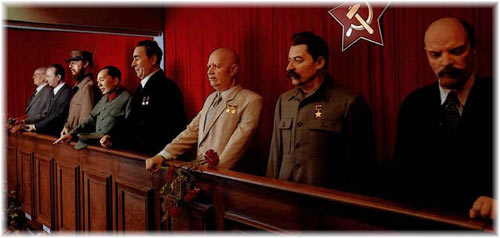 Wax Museum Melantrichova

– Melantrichova 5, Prague 1, open from 9. 00 a.m.-11.00 p.m
Wax Museum Mostecka

– Mostecka 18, Prague 5, open from 9. 00 a.m.-8.00 p.m.
More info www.vaxmuseumprague.cz;  (tickets cost 120 CZK)