For nature and animals lovers, Prague Zoo is the perfect place to visit. The zoo is open all year round and is located in the picturesque environment of the Troja Basin. Its diverse terrain makes it possible to walk through both shady groves and open, grassy plains. There are ever-growing numbers of exhibition lots that blend with the natural landscape. To make your trip to the zoo more pleasant, a popular series of informative feedings and training exercises have been prepared for weekends, along with many other interesting programmes. There is also a small chair lift that will, no doubt, be entertaining for children. We must not forget to mention that the zoo has been renovated since the floods of 2002.
Among the most notable species found at the Prague Zoo are: giant turtles, Chinese alligators, giant iguanas, cassowaries, red pandas, brown hyenas, cheetahs, Amur leopards, Siberian tigers, Sumatran tigers, aardvarks, white rhinoceros, Przewalski's horses, kiangs, bongo antelope and addax, dark gorals, ruffed lemurs, orangutans and Western gorillas. The zoo was conceived on the idea that the animals should not be placed in cages and is focused on creating a natural environment for each animal. They are separated from visitors by glass, moats or fences.
About half a million people visit the zoo each year.
Prague Zoo Can Be Enjoyed After Dawn
Choose the special guided tour (with a guide who loves to answer your questions), or enjoy a night walk in the Prague Zoo and learn what the nightlife of animals looks like.
In January, the tours are organized on the 12th, 13th, 20th, 26th and 27th – always at 5 pm. The capacity of the tour is 25 people. It is necessary to book the tickets via the website and pay for them online.
The price is 300 CZK for adults and 250 CZK for children. Dogs cannot participate in night tours. The price includes the entrance fee, service of the guide and parking fee.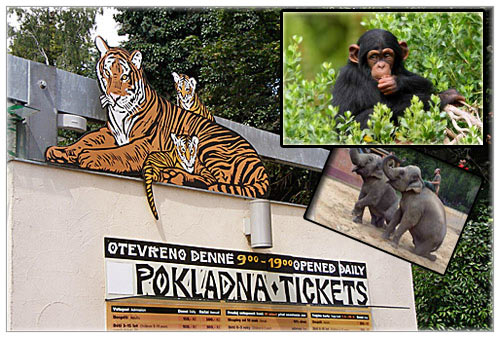 Open: daily March 9 am-5 pm; April, May, September and October 9 am-6 pm; June, July and August 9 am-7 pm; November, December, January and February 9 am-4 pm.
Getting there: take a bus no. 112 from the underground station of Nádraží Holešovice (line C); get off at Zoologická zahrada, last stop.
Address: U Trojskeho zamku 3/120, Prague 7. Webiste: click here.