Luxury hotels in Prague are expensive in relation to the other costs of your trip. Below are listed our best picks.
Art at every step

Already when entering the Aria boutique hotel, you will be addressed by a horse miniature known from Myslbek´s statue of St. Wenceslas on Wenceslas Square. And art eradiates at you at every step, even on the plates of the hotel restaurant CODA. You can find there popular music celebrities presented by caricaturist Josef Blecha on sixteen types of plates.
Romantics with a homely atmosphere
U Zlate Studne Hotel, located in close quarters to the Prague Castle, abounds in a homely cosy atmosphere and beautiful view of Prague from a very interesting point.  Already the entry to the hotel is exceptional – there is a separate narrow alley leading to its entrance and ended by it as it is otherwise blind.
Royal Suite is a true seat of the kings
The Prague hotel Le Palais is located in U Zvonarky Street, not far from the Nusel stairs and only a 5-minute drive from Wenceslas Square. The hotel was originally built as a residential palace in 1897, and history is reflected literally in its every corner. The best the hotel has to offer is the so-called Royal suite. It is a five-bedroom complex with a hall that is at the guests' full disposal. View of Prague is thus in a special embrasure as if created for a romantic dinner.
Oriental experience with an elegant terrace
The Prague Mandarin Oriental arose thanks to the reconstruction and renovation of the former Dominican monastery. Thanks to its articulation and rather a small size, this hotel impresses by its hominess and cosiness. Thus, many features from the original building create an exceptional atmosphere complemented by a suitable location in Nebovidska Street not far from the Musical Museum.
A big competition for established hotels
Kempinski Hybernska Hotel is located in Hybernska Street's heart, not far from main cultural and historical sights such as the Powder Gate and the Council House or Old Town and Wenceslas Squares, and at the same time at close quarters to shopping and business centres. Reconstruction of the building itself into a luxurious hotel cost EUR 20 million, thus roughly 560 million Czech crowns.
Booking.com – (discounted hotels, instant confirmation, pay upon arrival)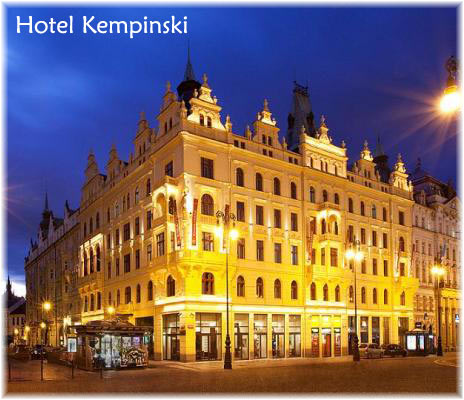 Tip: Prague's often-dubious service extends to the taxis that cluster around the entrances to many hotels, which often rip off tourists. If the hotel has its own fleet of taxis, it's a better option, but their charges may still be double those set for local taxis. The best bet of all is to call an honest taxi service yourself, such as AAA Taxi or pre-book shuttle with Prague Airport Transfers. For more on taxis and getting around in the city, see the transport chapter.