Many of the monuments in Prague stay open during the winter but with shorter opening times. Winter days aren't as long, and it becomes dark at about 16:30. Prague's winters normally last from the middle of November right through to the beginning of March. The winters are cloudy, cold, wet and icy with sub-zero temperatures. The 1st snow usually arrives late in November, and the coldest temperatures are often present in February and January and can go down to -5°C / 20°F and even as low as -10°C / 10°F. The 1st part of March normally is wet and chilly with temperatures about 10°C / 50°F. There's still a high chance of snowfall during March.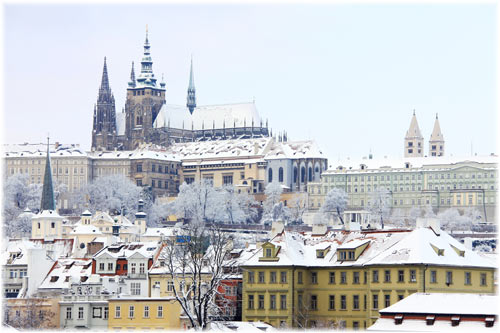 Be ready to bundle up and wear layers and, when you visit the Czech Rep during winter, wear shoes designed to handle water and snow; watch the weather forecasts on the internet before you travel.  Prague's weather in the winter can be fairly crisp, so you ought to put on some warm gloves and a scarf and hat. Wearing layered clothing is particularly advised. Also, ensure that you keep your feet warm in tough winter boots with water-proof resistant soles. Don't wear high heels if possible – this applies for whatever time of year you visit if you intend on doing a fair amount of walking on Prague's cobble-stoned streets.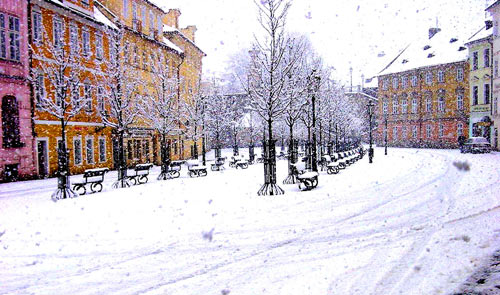 Should you be fortunate enough, you may witness a white Xmas in Prague. The odds are about 100/30 that the whole city will be covered in snow with a picturesque white blanket. The Xmas vacation season is often hectic but extremely charming also. This is true, as well, throughout December, so be prepared for bundling up. The highest average temperature is 2 °C (36 °F), and the lowest average temperature is -2 °C (28 °F), which compares to Budapest, Zurich or Paris. December's average precipitation is below 1 inch (25 mm), including light rain or snow.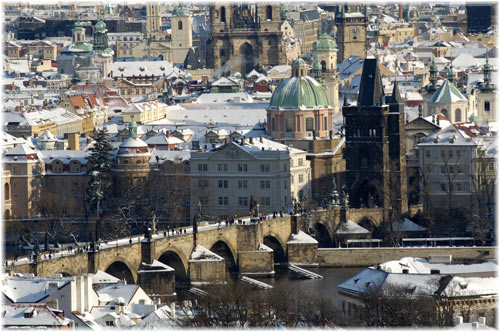 January's Weather
The temperature is zero degrees and probably far lower, and this is the year's coldest month. The temperature some years throughout January's night-times can even get as cold as minus twenty-five degrees and around minus ten degrees throughout the day, but this isn't common. If the thought of witnessing a picturesque city in a blanket of snow appeals to you (it's virtually certain that there'll be a bit of snow) and, simultaneously, you want to journey to avoid lots of tourists and stay in hotels at reduced prices, then this is when you should go. However, it will often be freezing, raining and maybe snowing. The day-times are normally sunny, but the days aren't as long.