Visitors to Prague often miss out on the best of traditional Czech cuisine, which is heavily meat-based and quite diverse. Don't be one of them unless you are vegetarian. A typical national dish is 'pork, cabbage, dumplings', which must be accompanied by a pint of beer, the most typical Czech beverage.
If you avoid eating fast food and head out to the restaurants or pubs, then you can experience some great traditional Czech cuisine. Czech cuisine is principally Bohemian and closely attached to that of southern Germany and Austria. Vegetarians will not be very pleased, as Czech cuisine uses a lot of fried or roasted meat, usually pork or beef and, on special occasions, game and fish are served with dumplings, potatoes or rice, in a sauce. On the other hand, one thing is sure; you will not go hungry as all the national dishes are vibrant and filling. However, you are not limited to Czech food as there are all sorts of international cuisines to choose from. You can try Chinese, Korean, Japanese, Cantonese, Italian, Balkan or whatever comes into your mind.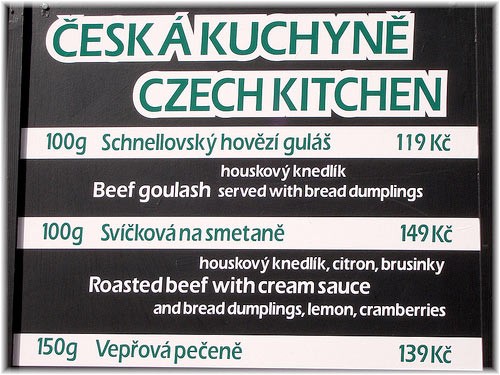 As we said, earlier one traditional Czech dish is 'pork, cabbage, dumplings' (vepřo-knedlo-zelo). It is composed of roast pork, 'knedlíky' (bread-like dumplings), which is a kind of gnocchi made of bread, gravy and sauerkraut (pickled cabbage). It gained so much popularity because of its balanced taste, with the sour taste of sauerkraut a perfect complement to the salty taste of the meat. Other popular choices to try are roast duck or 'Svíčková na smetaně' — sirloin of beef in cream sauce with bread dumplings, garnished with cranberries. Czech cuisine has also adopted schnitzels (breaded and fried chicken or pork patties) from Vienna, goulash (meat in gravy with bread dumplings) from Hungary, and sour cream, vinegar, sour vegetables and pickles – probably from the East. As we mentioned earlier, most of the Czech dishes are quite filling and quite mild; fresh salads are still quite rare. But there is one exception concerning fresh veggies; on nearly every menu you will find 'šopský salát', also called 'balkanský salát', which is a small bowl of chopped bell peppers, tomatoes and cucumbers in sweet vinegar with a salty white cheese grated liberally on top. Czechs enjoy Czech food and mostly eat in pubs; recently, fast foods and pizzas have been getting very popular too. However, Czechs are not really keen to experience other international cuisines; some are conservative, and it might not be affordable for others. Among grab-and-go foods, 'bramborák' (a garlic-seasoned fried potato pancake) is a quick, if greasy, a local favourite. The same goes for smazeny syr (fried cheese). Fried cheese was, for a long time, practically the only vegetarian dish served at restaurants. Today, the range of meatless dishes is definitely much wider. The 'párek v rohlíku' (hotdog in a roll) is sold from kiosk windows around the city and is a reliable bridge between an early lunch and late dinner.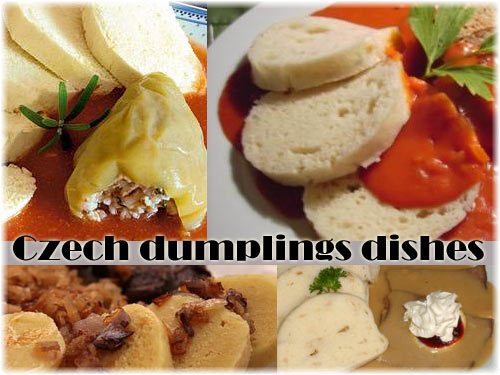 Czech cuisine is very mild, and mostly everything is prepared simply without hot spices. One of the most common dishes is pork, served with dumplings and sauerkraut. Another one is pot-roaster beef in rich, creamy vegetable sauce and cranberries. Sweet dishes, such as fruit dumplings, strudel and pancakes, are also trendy. When you try local food, do not forget Czech Beer which goes well alongside. Recommended brands are Pilsner Urquell, Gambrinus and Prague Staropramen. Moravia wine and Czech spirits Becherovka, Borovička and Slivovice are also old favourites (it does not mean that foreigners will find them very attractive). Drinking water is not automatically provided in restaurants but is usually available on request.
Breakfast
If you are an early bird, like many Czechs, you can go to a bakery, café shops or buffets and have breakfast from early morning for around 60 CZK.
Lunch
is mostly served between 11.30 am and 3 pm. The cheapest food can be found in pubs during lunchtime where you can have lunch with a drink for less than 100 CZK. Some fast-food places like pizzerias can be also quite cheap and serve decent food. Don't forget, and many restaurants are closed in the afternoons. Also, not all restaurants offer a menu á la carte during lunchtime; this is only for dinner. Instead, they serve set meals (in Czech, these are called hotovky).
Dinner
is served from 6 pm to around 9.30 pm, but some city restaurants serve food until late at night. Cheap restaurants, including ones in a centre, will satisfy your belly with a drink for around 200 CZK. Mid-range restaurants will charge from 250 CZK to 500 CZK for a meal, not including drinks. Top restaurants for dinner can hit the bill for 2000 CZK with wine. Booking is mostly only essential at well-known restaurants in summer and upmarket restaurants. Don't be surprised if you find some funny names on the menu; even we Czechs don't know where some of them come from, and an explanation is usually required.
Self-catering
is available from many supermarkets or grocery shops called 'potraviny'. If you want cheaper grocery shopping, go out of the city centre to any large supermarket, or even better to a hypermarket.  
Starters

– Prague ham
– small bowl of soup
– topinka (kind of garlic fried bread)
Czech Soups

Mostly Czech meal starts with a soup.
– garlic soup
– potato soup (can also be with mushrooms)
– dill soup, made using sour milk
– chicken noodle soup
– beef soup with liver dumplings
– sauerkraut soup 
Main Courses
If you want to try some Czech food, you find it mostly consists of some meat and a side dish, usually without vegetables. The most popular meats are chicken and pork, followed by beef (try Prague roast beef), and they are usually served with some sauce. As for fish, it is not a favourite choice for Czechs. However, you might still try trout, cod, salmon or mackerel, or on Christmas Eve, we eat a carp.
– Wiener-schnitzel
– goulash (original Hungarian – a meat stew flavoured with paprika)
– svickova (beef in a cream sauce usually served with dumplings)
Side Dishes

– boiled potatoes
– roasted potatoes
– potato salad
– mashed potatoes
– French fries
– rice
– bread dumplings or potato dumplings with sauce
– bread dumplings or potato dumplings with sauerkraut 
Czech Desserts and Confectionary
We have many varieties, and they tend to be heavy and fatty because we use butter and whipped cream. Honey and apple tarts are ubiquitous, and you will find them everywhere. Amongst the popular desserts are:
– apple strudel
– crepes filled with jam or strawberries and whipped cream
– honey cake
– blueberry dumplings
– ice cream sundae
Dining Out Etiquette
If you've finished eating and want the waiter to take your plate away, put your knife and fork together. Leave them crossed if you want to carry on eating.
• Toasting is very common. The local ritual is to look into the other person's eyes, clink glasses, and say Na zdraví (To your health!). Never cross arms with someone else to reach a person on the other side of the table.
• It is considered good manners for the man to enter a restaurant or bar before the woman does. This ostensibly keeps her from being eyeballed by the men inside and allows the man to deal with clearing a path and finding a table.
• Service tends to be at the table, even in pubs.
• When waiting for a beer, put a coaster down in front of you so the server can place your mug there. In some pubs, setting down the coaster will automatically get you a beer.
• Never mix the dregs of a beer you're about to finish with the fresh beer you've been brought.
• Say dobrou chuť (bon appetit) before starting your meal.
• When leaving a tip, you can give the server the bill's exact amount and say either to je dobrý or v pořádku (that's fine). You may also leave a tip on the table.
Smoking
There is a restriction on smoking. Since 2010, pubs and restaurants must be displayed at the entrance to the premises one of the following labels: smoking allowed, smoking prohibited, or mixed (which have separate smokers and nonsmokers). (read more)
Did you know? Prague restaurants are known for heavy meals but as the Czech population is starting to be more concerned than ever before about being healthy a large number of vegetarian restaurants are popping up. The Czechs are not saying good bye to their beloved traditional food. It is more like, yes we are aware and we are trying to make a change – but don't expect us to eat a 'meat-free' dish more than once a week. 
Best Restaurants for Great Views
U Zlaté Studně
Hergetova Cihelna
Best Restaurants for Romance