Whether you are on vacation in Prague or town on business, you will have to eat and probably want a drink at some point.  The good news is that you will find no shortage of great restaurant, pubs, beer and food in Prague.  Here are a few of our favourites that you will not want to miss the next time you are in town.
Lunchtime is generally between 11:30 am and 2:00 pm. Dinner is usually consumed no later than 8:00 pm; many restaurants stop serving by nine or ten o'clock.
U Prince Hotel Roof Terrace Bar
If you are looking for romance in Prague, then one of the best spots in town is the U Prince Hotel Roof Terrace Bar.  As you sit down for a drink, be sure to enjoy the terrace at the five-star hotel by the same name.  Located in Old Town Square, the sights are unforgettable as you are at eye level with the famous Astronomical Clock Tower.  The Roof Terrace Bar has some of the best views in all of Prague, and you can watch as the sun sets on Prague Castle and the square itself.  You can even enjoy this spot year-round as there are heaters and covers which keep the terrace warm and protected even in the middle of the winter months.
Address:  U Prince Hotel, Old Town Square 29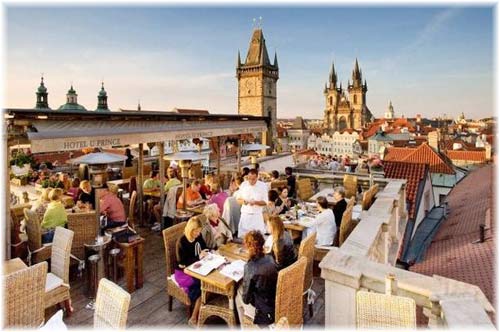 Plzenska Beer Hall Restaurant
Located in one of Europe's finest Art Nouveau buildings inside the magnificent Municipal House is the Plzenska Beer Hall Restaurant.  Visitors are treated to a classic beer hall atmosphere while being able to dine on classic Czech cuisine at the same time.  In fact, the interior is beautifully done with complete Art Nouveau features such as ceramic mosaics and a golden clock.
As far as the food goes, it is traditional Czech, such as heavy meats and creams with very little in the way of fresh salads or vegetables.  However, it is delicious and prepared with flair.  Some of the specials include Spicy Grilled Marinated Spare Ribs, Roasted Pork Joint and the Bohemian Duck.  There are plenty of other meat dishes to choose from as well, including sausage, goulash, wild boar medallions, and smoked pork.  Many of these dishes will come with traditional red cabbage and dumplings or potato pancakes.  Don't forget to leave room for dessert with such items as blueberry cake or apple strudel.
There are many wines at the Plzenska Beer Hall, but as the name suggests, your best bet is to go with an ice-cold Czech beer to wash down your lunch or dinner.
Plzenska also provides nightly entertainment with music in the background.  This is a smoking restaurant, but the smoke dissipates well before it becomes an issue for visitors thanks to the high ceilings.
Plzenska Beer Hall is located near both Wenceslas Square and Old Town Square.
Address:  Republic Square 5, Old Town, Prague 1
Sherwood Restaurant and Bar
This hidden gem is located in a great location near Wenceslas Square and the Prague State Opera.  In fact, it is the perfect spot for dinner either before or after a show, along with a well-mixed drink.
Sherwood Restaurant and Bar serves exquisite food along with a friendly atmosphere and a little something for those wanting romance, fun, or even to watch some sports.
The food at Sherwood Restaurant is sure to satisfy anyone and is expertly prepared by experienced chefs.  The food is not only delicious but is wonderfully presented as well.  Some of the favourites on the menu include roast duck, pork ribs and goulash.  In addition, there are some lighter fares as well, including salads, pasta, fresh fish and even numerous vegetables.
The drink menu includes some of the favourites of the region, such as Stella Artois, Staropramen, Leffe and Hoegaarden.
Feel free to stay at your table as long as you would like and enjoy numerous well-crafted cocktails as well.  For those who would also like to watch little sports, there are several televisions in one part of the restaurant along with low music in the background in others.
It will take a little effort to locate Sherwood Restaurant and Bar as it is off the main tourist track.  However, there is an upside to this: the prices are lower and the food is just as good, if not better.
Address:  Opletalova 19, New Town, Prague 1
Triton Restaurant
In business since 1912, this restaurant presents an Art Nouveau interior and is found in the cellars of the Adria Hotel.
The atmosphere creatively mixes tropical fish tanks along with statues and sculptures from Greek mythology, telling the story of Eurydice and Orpheus.
The menu at Triton includes both international and Czech food such as roast beef, duck, goulash, roasted lamb, duck, pork, chicken, and fish such as salmon and trout.
There is also a very impressive wine list that has bottles available at all price points.
Located on Wenceslas Square, Triton is great to combine with dinner before or after a Prague State opera performance or the Estates Theatre.
Address:  Triton Restaurant, Wenceslas Square 26
Gabriele Ristorante
This restaurant has recently undergone a complete transformation and has been back in business since 2010.  Formerly known as Fambee Restaurant, this new version is still set in a fully restored gothic cellar right in the middle of the Old Town.
Named for the head chef, Gabriele Feliciani is from Italy and brings a wide array of experience from studying in France and Europe.
The food at Gabriele Ristorante is authentic Italian that you can only get by going to visit Italy while on your trip.  The food is not only creative, but it also enjoys a great range of flavours, and the menu includes such items as fresh fish to steaks and lamb chops.  In addition to the main pasta dishes, there are also desserts that will have you coming back for more.  While the menu might be a little light on choices, know that this is done to ensure that all the ingredients, such as the fish are always fresh.
The wine list includes choices from both France and Italy as well as those from other regions as well.
Located only about a five-minute walk from Old Town Square, Wenceslas Square and Charles Bridge, this is a restaurant that offers not only a romantic atmosphere but one that is perfect for business as well.
Address:  Husova 5, Old Town, Prague 1
Chagall's Club Restaurant
Chagall's is both modern and relaxed at the same time and offers a five-star menu, but without breaking the bank.  A new restaurant that has only been open for less than a year, Chagall's is located in a historic building renovated with high ceilings and a bright interior to give it a light feel.
Head chef Petr Hajny sets the standard high with innovative and creative food that gets its inspiration from fresh seasonal ingredients.  In Hajny's hands, normal meat and vegetable dishes get spruced up.  For example, the menu includes juicy steaks served with soft carrots and shallots.  The sauces with the food are also infused with wine and pepper and often carry a hint of mushrooms as well.  While steak might be one of the most popular dishes, Chagall's also gets a fresh supply of fish each day.  In addition, there are also pasta and pork dishes on the menu as well.
The wine list shows a wide selection from all over the world, with much of it priced at very reasonable levels.
Chagall's is perfect for the romantic stop, and this is especially true in the summer months when there will be tables out front for al-fresco dining.
Address:  Kozi 5, Old Town, Prague 1
Piano Nobile at Villa Richter
If you are looking for exquisite French cuisine in the middle of the Czech Republic, then look no further than Piano Nobile at Villa Richter.  This fine restaurant is located on the hillside just below Prague Castle in a summerhouse that dates all the way back to 1836.  Newly restored, this restaurant offers a tremendous view of Prague and fine food at reasonable prices.
In fact, the prices are set depending on the number of dishes you choose.  The menu is small but offers perfectly prepared dishes ranging from roasted quail to beef fillets.
The restaurant also has over 2,500 bottles of wine that include a wide international selection as well as popular Czech wines.
In the warmer part of the year, visitors can also choose to sit outside and enjoy the views while eating on one of the many terraces.
Address:  Stare zam. Schody 6, Prague Castle
Cervena Tabulka Restaurant
Another one of the city's hidden gems, Cervena Tabulka Restaurant, is located just ten minutes from Old Town Square.  This restaurant offers a cosy feel thanks to several small rooms that are each furnished in their own theme.
Cervena Tabulka is fabulous, no matter what season it is.  In the winter, a roaring fire will contribute to the cosy feeling, while in the summer months, there is the option of having your meal in the adjacent garden courtyard.
The menu is modern with such appetizers as scallops, salmon tartar and cream of mushroom soup.  The main dishes change with the seasons and include beef, fish and fresh salads.  Of course, don't forget the desserts, which include a vanilla crème Brulee consisting of fresh figs and a coconut mousse.
The wine list is also impressive and consists of both local and international varieties.
Address:  Lodecka 4, New Town, Prague 1
Konirna Restaurant
Set in the middle of Lesser Town, Konirna Restaurant offers traditional Czech food.  The building that houses the restaurant actually dates back to 1176 but has recently undergone an entire transformation that has kept and enhanced the atmosphere and character.
The food on the menu is a blend of Czech favourites and international ones, such as beef sirloin and rib-eye steak.  There is also duck, boar, goulash, and sausage with bacon.  For those who would prefer something slightly lighter, fresh fish are also available.
There is also a good selection of wines that come from all around the world.
If you visit during the warmer months, the terrace located at the front of the restaurant is open, and you can sit for hours, taking in the sights and sounds of central Prague.
Address:  Maltezske namesti 10, Lesser Town, Prague 1
Restaurants with Gardens and Terraces
Vozovna Stromovka
Královská obora 2, Prague 7; www.vozovna-stromovka.cz
Chorvatský mlýn
Horoměřická 2575/3a, Prague 6; www.chorvatskymlyn.cz
Žofín Restaurant and Garden Café
Slovanský ostrov 226, Prague 1; www.zofingarden.cz
Hanayský Pavillion
Letenské sady 173, Prague 7; www.hanayskypavilon.cz