Seven gardens are surrounding the Prague Castle, but The Royal Garden is historically the most important of them, created in 1534 for Ferdinand I. Originally a Renaissance garden, with some beautiful pieces of architecture inspired by Italian influences, it used to be a place where the king and his family relaxed, played games and raised exotic plants. In the 16th-century various garden architecture elements were added – Queen Ann's Summerhouse, The Singing Fountain, Ball Game Hall, a greenhouse, Orangery, Fig House, The Lion House, etc. In the early 18 century, the garden was modified in the Baroque style. Several Baroque statues by M. B. Braun have been preserved from this period. In the late 18th century, the garden was gradually transformed into an English park, and in the 19th century, most of the fruit trees were replaced with decorative trees.
There are two exceptional Renaissance buildings: the Belvedere (Royal Summer Residence) and the Royal Ball Game Hall, built in 1569. The garden is a beautiful place to stroll where you can see and some remarkable Renaissance and Baroque sculptures and fountains. The best time to visit is in the spring, when thousands of tulips bloom in its immaculate beds. Also, we should note that this was the place where tulips were first acclimatized to Europe. 
Location: Prague Castle, U Prašného mostu.
Open: daily 10 a.m. – 6 p.m. (April, October); daily 10 a.m. – 7 p.m. (May, September); daily 10 a.m. – 9 p.m. (June, July); daily 10 a.m. – 8 p.m. (August).
Admission: free
Other names: Royal Garden by the Prague Castle; First Royal Garden, Zahrady Pražského hradu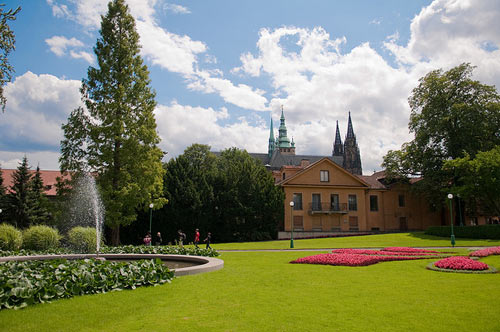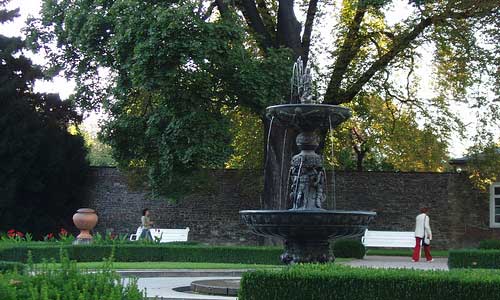 Ball Game Hall
Built in the 16th century and located in the Royal Garden next to Prague Castle, the ball game hall was intended as a place for the nobles to be entertained and enjoy sporting activities.  Completed between 1567 and 1569, the hall also houses several impressive sgraffitos on its walls, including those representing the four elements, the virtues and the sciences.  One of the high times for the shortly after it was completed when aristocrats would gather for games similar to today's badminton or tennis.  In the early 1700s, the building was converted to a stable, and at the end of the 18th century, it became a storage spot for the army.  In WWII, the building was burned by the Nazis and later restored by 1950 when a hammer and sickle were added to the walls for the Communist Party.  Today, the ball game hall is used for concerts, festivals, conventions and exhibitions.
Address: Prague Castle Royal Garden, Prague 1