The St. Nicholas tradition is supposedly based on a 4th century Greek bishop named Nicholas, who is said to have left a gift of money on the windowsill of three poor girls to enable them to get married.
When you are walking on the December 5 evening in Prague's streets, you surely will run into a group of strange characters: St. Nicholas, the Angel who represents Good, and the Devil, who represents Evil. All wear costumes. Nicholas looks a bit like Santa Claus, whose origin was supposedly inspired by St. Nicholas.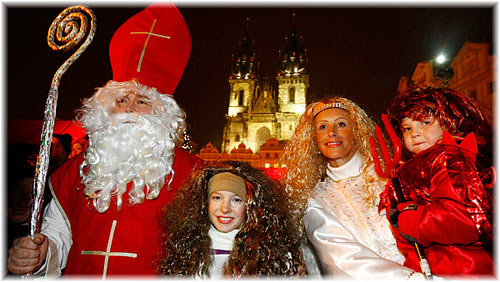 All three characters walk the streets, stopping children and asking them if they were good in the past year. Most kids say yes and sing a song or recite a short poem. They are then rewarded with sweets, candy or other treats, which are handed out by the Angel. Bad kids would be put in the Devil's sack and taken to hell or would only get a sack of potatoes or coal instead of candy – though, of course, it does not really happen! With this thought in mind, small children are understandably terrified of the Devil. Needless to say, Mikulas acts as a strong incentive to be good throughout the year!
The eve of St. Nicholas is especially fun in Prague. Parents bring their children to Old Town Square, where you can see the tradition in full swing roughly between 5 p.m. and 8 p.m. In small towns and villages, the three characters visit people's homes. The evening of December 5 is, therefore, an exciting time for children! Children also receive St. Nicholas presents from their parents and relatives. The gift, e.g. sweets and chocolates, can be put into a stocking and hidden somewhere in the child's room.
At the time of Mikulas, the Prague Christmas markets are in full swing in the Old Town Square, and tourists can browse the market stalls, enjoying the hot food and drink on offer at the wooden huts.