Susan Breslow Sardone, in About.com's Guide to Honeymoons, has blogged about National Geographic Traveler's list of the "World's Sexiest Cities", asking readers to share their opinions.
Is Prague One of the World's Sexiest Cities?
Mozart wouldn't have even had to ask – in 1787. He premiered Don Giovanni, the story of an amorous nobleman, there. Prague was also once the home of Alfons Mucha, whose Art Nouveau style depicts images of curvaceous women in revealing drapery. Writers – think Henry Miller and Hemingway – flocked to Prague in the 20th century, where they could live lifestyles aptly described as "Bohemian". Screen heroes, like James Bond and Jason Bourne, have made conquests and car-chased in Prague.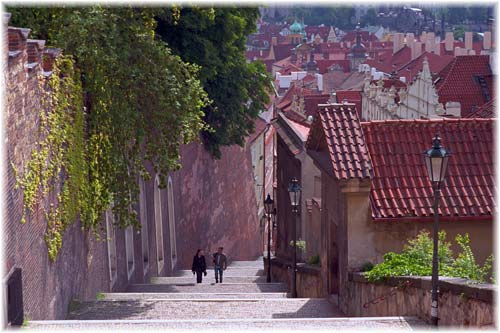 Today, Prague is a major destination for ex-pats, or would-be ex-pats, searching for the Europe that exists only as an idea in literature and pop culture. Prague attracts eloping couples and honeymooners with its multitude of romantic hotel hideaways. Individuals seeking serious nightlife can enter dark and intimate jazz rooms or party with a club scene that never sleeps. Many youthful backpackers experience their first real sense of independence in Prague while established individuals savour Prague through its food, art, and shops.
Prague's mystery, beauty, character, and history make it a must-see city. However, because Prague serves as the permanent or temporary home of sophisticated music-lovers, spies, romantics, and the inspired, Prague's inhabitants – real, imaginary, or historical – are what create its aura of sex appeal.