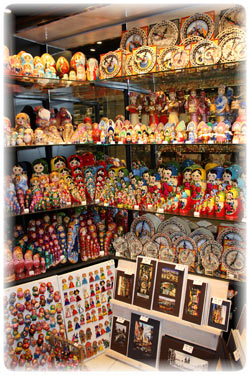 Together with the opening up of the economy after the collapse of the communist regime, the supply of all goods in Prague has been fundamentally extended. Recently, big western brands, luxury boutiques, fast-food brands like KFC and McDonalds are appearing all around the city. Most shopping malls and arcades are located in the centre of Prague in Wenceslas Square, in streets Na Poříčí, 28. října, Národní třída, Vinohradská (above the National Museum), Pařížská and just on or close to the vicinity of Old Town Square. You can find pretty much everything from clothes, electronics and music stores to glass shops and antiques. Close to the tourist attractions, there are many shops selling souvenirs, t-shirts with 'Franz Kafka' on them, Mucha merchandise, Russian dolls, flaunting puppets, and Czech porcelain and glass. If you are looking for more unusual shopping, you should head down hidden passages and the arcades and backstreet shops of Lesser Town and Old Town. In these little shops, you can find many bargains and curious and interesting things.
Additionally, many new large shopping centres are located in suburban areas easily reachable by Prague public transport. There are always many parking places available. 
Precautions for Tourists in the Old Town and Royal Way Shops
The road connecting Old Town Square with the Gothic Charles Bridge is the busiest in Prague, which tourists heavily frequent. It is packed with similar shops selling identical items, and it pays to be cautious. If you want to take traditional Czech items home with you, you should shop away from this area. Although the large quantity of crystal, garnets, and glassware being sold are authentically Czech, some shops, like Mosser, are also genuine. Avoid the shops which sell Slavic items unless you wish to acquire some colourful nesting dolls from Russia or some Communist-style furry hats. In fact, a wide array of dubious items are available, as most of the other stores sell inexpensive goods from China, which have Prague logos stuck to them. Should cheesy mementoes happen to tickle your fancy, though, then you will love Prague's main tourist areas.
What to Buy in Prague?
Bohemian glass, crystal and china, ceramics, wooden toys and local handicrafts are recommended items to look for.  
What Not to Buy?
If you want to buy luxury clothing or electronics, you will definitely find them cheaper in the UK (or in the US).
Gifts to Buy, Our Picks
Good buys are classical CDs of the works of Czech composers (like Dvořák, Smetana, Martinů and Janáček) as well as those of folk music and brass bands. You can get CDs at any bookstore and many other stores in the city centre.
At Art Decoratif (U Obecního domu 1), the granddaughter of Alfons Mucha creates jewellery, lamps and other gifts with the Art Nouveau statements that made her grandfather famous. Although her work tends to be expensive, the quality, craftsmanship and name are all worth it.
Prague, supposedly, boasts the only Cubist lamppost in the world. In addition, it has some great shops specialising in the art form from the early 1900s. At Kubista (Ovocný trh 19), you can find vases and tea sets that are geometrically stunning – and expensive. Pick a gift here for that boss who should give you a raise or that secretary who has saved your career on more than one occasion.
Art Deco Galerie (Michalska 21, Old Town) is filled with vintage clothing, antique furnishings, accessories and exquisite trinkets. There are hundreds of items to choose from, from the 1930s and 1940s hats to Art Nouveau clocks and Art Deco chairs.
Czech crystal, glass, porcelain and ceramics
You can find Czech glass in many department stores and close to tourist spots. Also, Czech handmade porcelain and ceramic are good gifts. Bohemian glass is famous in the world for its uniqueness and quality. It is sold at many places in the city centre, and prices are not radically different from shop to shop. Some of the shops are even able to ship abroad.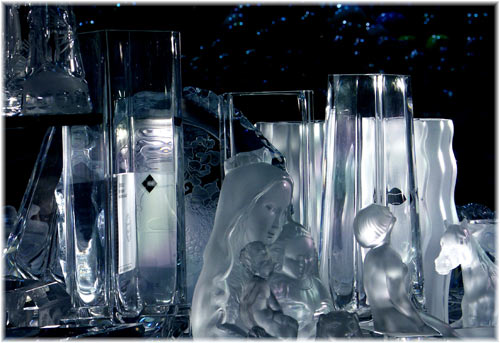 A nice little Czech souvenir that will come in especially handy at Easter is a box of beautiful hand-painted Easter eggs. Lots of them are true works of art. You will find them at markets and souvenir shops all year round.
This herbal liquor from Karlovy Vary is good for the health (good for digestion). It can be an acquired taste, so try a bit first. This is a good gift for spirits lovers.
If you like sweets, you will probably love the spa wafers, a tradition from Karlovy Vary. They come in several flavours, such as vanilla/nut and chocolate. You can buy them fresh on the street or look for them in a grocery store – in that case, make sure Opavia makes them.
Czech stamps, match labels and old postcards
These can be great gifts or items for your collection. Some old Czech stamps and even coins are really fabulous design.
Beautiful watercolour and coloured chalk sets can be a perfect gift too.
Antiques, old books and paintings
Ancient books and printings can be found in many shops in the centre and on Karlova stalls. Antiques and artwork: Be careful when you buy antique or museum-quality art. You might have trouble with customs on the way out. In the main, everything made before 1920 may be non-exportable.
You do not have to be absolutely insane to like absinthe, the potent, chemistry-lab green spirit, which is 70% alcohol. Buy it everywhere, give it to everyone, but drink it in moderation.
In a country where you can see operas that feature traditional Czech marionettes, these puppets make a good gift. You may know someone who would fancy one of these eerie but unarguably artistic creations. Obchod pod Lampou (U Lužického Semináře 5) has the best around, in all shapes, sizes and splendour.
Perhaps surprisingly, the city is also good for buying hats, and two longstanding firms produce wonderful creations, Model Praha and Tonak. 
One of the best pieces of food that you can eat while in the Czech Republic is Czech chocolate, which comes in various forms. Another speciality of many regions of the country is cheese, and the country is particularly noted for the fine smoked cheese it produces. Both of these types of food can be found in all supermarkets in the country, along with more generic foodstuffs.
Tax Refund

VAT (value-added tax) is 19% on most services and products and 5% on nearly all foods, hotel charges, restaurants meals, telecommunication, etc. You can claim the VAT back if you purchase more than 2000 CZK in value (vat refund is not possible for EU residents). Tax-free shops are displaying the 'Tax-Free Shopping' label. When you leave, you have to present a tax-free form to customs for validation, and it must be done within 30 days of purchase. (read more)
Shops Opening Hours
Most shops are open from 8 am to 6 pm. during working days and till 1 pm on Saturdays, but it's not a general rule. Shopping centres are usually open 7 days a week, at least until 8 pm; some smaller shops extend their opening hours to 8 pm until 10 pm during the main tourist season. 
Sales
From time to time, shops offer seasonal price reductions, especially at the end of a season and after Christmas.
Did you know? From the end of the 19th century until the beginning of the 20th century, together with the dominating artistic currents, Art Nouveau and Art Deco, there started a new era for the crystal industry. Since this time, the Czech Republic has traditionally been known worldwide to produce glass and porcelain. The best glass and porcelain pieces are made in the Moser glassworks in Karlovy Vary, by Crystalex in Nový Bor and by Bohemia in Poděbrady. Czech garnets and bijouterie are also very popular worldwide.