A three-day festival before Ash Wednesday, which begins the 40 days of Lent, ends on Easter. Like Easter, this feast was movable – it could happen any time between February 1 and March 7. The preparations for Shrovetide – on so-called Fat Thursday – were often preceded by a feast following the slaughtering of a pig. The traditional meal was roast pork with cabbage. On this day, a person was supposed to eat and drink as much as possible for him to have his full strength throughout the year.
The main carnival entertainment began on Shrove Sunday. First, a sumptuous lunch was followed by a party with dancing, which continued until morning. And the entertainment and dancing continued on Shrove Monday. In many villages, a so-called "husbands' ball" was held only for married men and women. In many places, people also believed that the height a farmer's wife jumped while dancing would be the height that the grain would grow the next year.
The feast culminated in Shrove Tuesday when masque processions and theatre performances were held. We have written reports of the Shrovetide dances of Bohemia and Moravia from as far back as the 13th century, but these festivities are definitely older. Many scholars link the dance of Shrovetide masques with pre-Christian pagan ceremonies. It is known that the Bohemian kings of this period also prepared feasts, to which they not only invited nobles but also later invited representatives of the city burghers.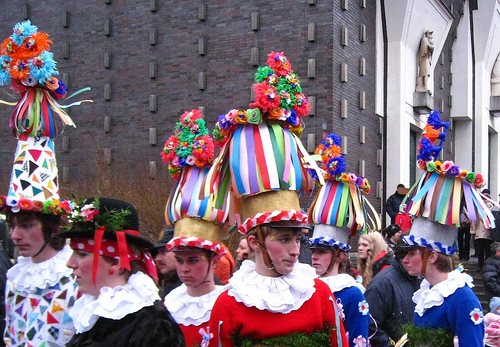 Shrovetide (in Czech Masopust) processions are still part of folklore celebrations in the Czech Republic.